End low pay
Fight until we win
Vicky Perrin, Teaching assistant and Unison executive member (personal capacity)
The coordinated action over local government pay on 10 July will bring up to 1.5 million workers out on strike from across public sector unions. The 1% 'offer', following a three year earnings freeze, is a pay cut not a pay award.
Typical local government full-time hourly earnings are the same now as in the early 1990s. Part-time hourly wages have fallen to 2002 levels. 8% of full-time and 38% of part-time local government workers earn less than the living wage.
Meanwhile living costs soar through the roof: food bills up by 16%, electricity and gas by up to a staggering 57%. These price rises mean nearly a 20% fall in real wages with pay-day loans and food banks plugging the gaps for the army of working poor. 'Recovery'? Not for us!
Strike against austerity
But this strike and the mood that has led to the coordinated action is also about a whole lot more. We are battling a wholesale jobs massacre as local government is dismantled, jobs are slashed and public services sold off to private profiteers.
If our jobs have so far escaped the axe, we face increased workloads and pressure, and increasingly brutal disciplinary and sickness procedures in stealth job cutting by managers.
Enough is enough
Workers are reaching the point where they feel pushed to the limit by this demolition government of millionaires hell-bent on the destruction of public services.
Those of us who are school support workers in Unison and GMB have gained a massive boost in being able to strike alongside our teaching colleagues. Joint picket lines at school gates, refuse depots, libraries and council offices will, at last, give local government workers a feeling of our own strength.
Not a one-day battle
This fight will not be won on 10 July alone. In building for the ballots the message was clear from union members: this is no time for token one-day action. We demand a determined and escalating battle that delivers us a victory and a first mighty blow to the austerity agenda.
In the planned further action in September, the unions must use every weapon in their armoury. Our members in academy schools, who are not part of the July action, must be given the chance to fight, as should the army of health workers in their pay dispute as our NHS is dismantled and privatised.
The TUC must seize this opportunity and the massive potential it presents. Public and private sector workers alike have waited long enough to unite and fight. The opportunity for a 24-hour general strike could be just a few months away.
Things could move rapidly through 10 July and beyond as a mood of confidence and angry determination ignites among workers and union leaderships must not be allowed to lag behind and dampen the flames.
10 July is the beginning of a fight we must win.
---
National Shop Stewards Network conference
All welcome
Saturday 5 July, 11am-5pm,
Conway Hall, Red Lion Square, London WC1R 4RL
Delegate/visitor fee £6
Speakers include Seattle $15 minimum wage organiser Ginger Jentzen, RMT president Peter Pinkney, BFAWU bakers' union general secretary Ronnie Draper, POA general secretary Steve Gillan and PCS president Janice Godrich.
---
£10 Now T-shirts
The National Shop Stewards Network (NSSN) is using its 2014 conference on Saturday 5 July to help build the growing campaign for a £10 an hour minimum wage.
Ginger Jentzen from the victorious Seattle $15 Now struggle will speak about a campaign that is a beacon for millions of low-paid workers in the USA and around the world.
Alongside Ginger will be Ronnie Draper, the general secretary of the BFAWU bakers' union. The BFAWU became the first union to call for £10 at their conference in June and have now been followed by the GMB.
New £10 Now T-shirts that can be bought for £8 at NSSN conference or ordered from [email protected]
Women's sizes are small, medium and large. Men's sizes are medium, large, XL, XXL and XXXL.
---
10 July: Striking a blow against poverty pay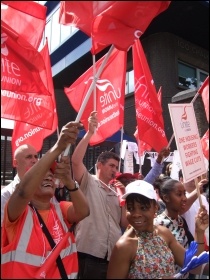 One Housing Group workers, members of Unite, striking against massive pay cuts, photo Naomi Byron (Click to enlarge: opens in new window)
'There's too much month at the end of the money,' said a PCS member in the midlands at a workplace meeting to prepare for the planned strike action on 10 July.
This strike of civil service workers, local government workers, teachers, firefighters, with others potentially joining too, shows that workers want a fightback to defend their living standards. And pay is at the heart of that.
A union spokesperson told the BBC: "GMB members serving school meals, cleaning streets, emptying bins, looking after the elderly, helping children in classrooms and in all the other vital roles serving our communities are fed-up with being ignored and undervalued… Their pay has gone up only 1% since 2010 and in October even the national minimum wage will overtake local authority pay scales."
Unison explains that, for the public service workers who have been on a virtual pay freeze since 2010, inflation has cut 16% out of the value of their pay packet.
But the super-rich are not touched. Britain now 'boasts' 104 billionaires, with a collective wealth of £301 billion, up by more than a fifth in a year. To add insult to injury it's reported that their cost of living is actually falling. Prices for caviar and fine wines are dropping.
We pay the price
But for the rest of us, as well as the pay freeze in the public sector there is the scandal of zero-hour contracts and a chronically low minimum wage. This is exacerbated by rising food prices, soaring rents and cuts to jobs and public services.
Workers in the public sector are often at the sharp end of this. According to Unison almost half a million local government workers earn less than the living wage, set at £7.65 or £8.80 in London. This is not enough to live a decent life but more than the measly £6.31 current minimum wage level.
Unison, GMB and Unite are calling for a pay rise of £1 an hour for local government workers in England, Wales and Northern Ireland. A pay rise of £1 an hour would mean that workers on the lowest scale point five would rise from £6.45 to £7.45 an hour.
Councillors have a choice but the Tories, Lib Dems, and Labour have used their elected positions to vote through horrendous cuts to workers' jobs, pay and to the public services we all rely on. While Labour receives millions from the Labour-affiliated unions, 80% of the councils under its control do not even pay the living wage.
Councils have been hit by government funding cuts, no question, but Unison has found that they have £19 billion in their reserves. Unison says that the extra £2.3 billion they put in the bank in the last two years could fund the £1 an hour claim, with some to spare.
Socialists argue that councils should pay a decent wage and refuse to implement cuts in services. By using their reserves and borrowing powers any council on the side of the working class not the 1% could buy time to build a campaign to force the government – either this one or the next – to properly fund local government.
This highlights the need to stand candidates in elections who are committed to opposing cuts and defending jobs and pay. It also shows the need for Unison, Unite and the other affiliated unions to break with Labour and to form a new mass workers' party that could be relied on to stand up for workers.
The Socialist Party is part of the Trade Unionist and Socialist Coalition (TUSC) along with the RMT transport union and key leading union activists. In May's council elections, Unison and Unite members were part of the 561-strong anti-cuts TUSC stand.
The Socialist Party gives its backing to the union campaign for £1 an hour increase. It is a scandal that any worker should live in poverty. That's why we campaign for the immediate implementation of the Living Wage as a step towards a minimum wage of £10 an hour with no exceptions, with regular increases to cover price rises. At their recent national conferences the demand for £10 an hour was taken up by the BFAWU bakers' union and the GMB.
It's not just in Britain that pay is a hot issue. In the US, following the victory in Seattle, the campaign for $15 an hour is spreading like prairie fire (see left). A higher minimum wage needs to be part of a programme of other measures to help low-paid workers, including a major investment in job creation, an end to zero-hour contracts, the introduction of rent controls and the construction of new council housing. At present the low-paid spend between a third and half of their income on housing.
Escalate the fightback
But it is going to take a fight. Members of the BFAWU bakers' union in Hovis showed that bad working conditions can be defeated when they successfully resisted the imposition of zero-hour contracts. Workers in the land registry have scored a victory against privatisation. And there are many local victories that prove that workers have power when they are organised.
The action on 10 July will show this. But it must be a step in a determined campaign of action. Public sector workers have shown their determination to struggle time and again. Two million walked out in defence of pensions in mass coordinated strike action on 30 November 2011. In local disputes across the country workers, especially low-paid workers, have shown they are ready for action.
But their courage has not been matched by the right-wing trade union leaders who, instead of building on the big success and popularity of the strike, settled for a few crumbs. That gave the Con-Dems and their big business masters the confidence to relentlessly turn the screw in pushing down workers' pay and working conditions.
The strike on 10 July is another opportunity to launch a battle against austerity. In doing so, the unions could draw behind them millions of unorganised workers and all those suffering from these brutal cuts. Unison has already named 9 and 10 September as the next dates for action in this pay strike. They should be the next steps in the mass coordinated strike action, building for a 24-hour general strike that can smash the pay freeze. This will open up the prospect of defeating this government of the 1%.
It is understandable that some workers are sceptical about the prospects for this struggle given the woeful role of the right-wing trade union leaders in recent years. However, the only way to defeat the attacks of the employers and the government is to determinedly set out to organise and fight until we win. The strike on 10 July is an important first step.
The best way to keep pressure on union leaderships – through building the broad lefts, democratic fighting left organisations in the trade unions, through organising local strike committees and involving more members in the activity and structures of the unions.
To end poverty pay we say:
Join the action on 10 July – picket lines and demonstrations and the public and workplace meetings to prepare for it
Trade union struggle to increase the minimum wage to £10 an hour without exemptions as a step towards a real living wage. For an annual increase in the minimum wage linked to average earnings
Fight until we win – organise further united strike action including a 24-hour general strike
For a new mass workers' party drawing together workers, young people and activists to provide a fighting, political alternative to all the pro-big business parties. Trade unions to disaffiliate from the Labour Party now!
Fight for a socialist alternative to the inequality and exploitation of capitalism
---
$15 an hour in Seattle: historic win for workers
In the US city of Seattle the election of socialist Kshama Sawant (member of Socialist Alternative, co-thinkers of the Socialist Party) has been key to the victory of the campaign for a $15 an hour minimum wage.
$15 an hour means 100,000 workers in Seattle will see a rise in their wages. $3 billion will be redistributed from business into the pockets of working families over the next ten years. Unsurprisingly big business fought hard to water down the $15 minimum and it will be phased in over a number of years and there are other loopholes.
Kshama and the 15 Now campaign will continue to challenge the loopholes and to fight to ensure that $15 is fully implemented. But the bosses' arguments that a decent minimum wage would see a massive cut in jobs or that they could not afford it don't stand up.
That this obscene inequality poses danger even for the super-rich is increasingly recognised. Seattle-based multimillionaire investor Nick Hanauer has warned in a "memo" to his "fellow zillionaires" that: "You show me a highly unequal society, and I will show you a police state. Or an uprising. There are no counterexamples. None. It's not if, it's when."
He previously wrote that: "Raising the minimum wage to $15 an hour would inject about $450 billion into the economy each year… That would give more purchasing power to millions of poor and lower-middle-class Americans, and would stimulate buying, production and hiring." But the vast majority of big business strongly opposes raising the minimum wage. Why? If big business pays workers poverty wages that means more profits in the pockets of the super-rich.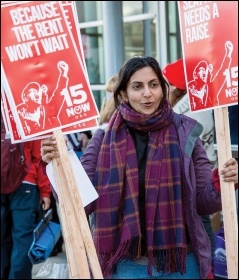 Kshama Sawant, Socialist Seattle councillor, hands out placards at protest for $15 an hour, photo Socialist Alternative (Click to enlarge: opens in new window)
Walmart workers, like many public sector workers, are forced to rely on in-work benefits to make ends come anywhere close to meeting. But figures show that it could pay its US workforce almost £6,000 more a year and still make an annual profit of £10 billion.
In her speech at the city council vote Kshama pointed out that in the chamber it was not big business that was voting against immediate implementation of $15 but the Democrats.
Seattle is rich in lessons. It shows that when workers organise and fight back, we can win. It shows that the pro-big business parties cannot be relied on to defend workers. And it shows that, as Socialist Alternative explain, "you don't have to be a socialist to fight back – but it helps!"
Kshama Sawant wrote that: "A real mass movement must welcome everyone who wants to join the struggle, but history has shown again and again that movements are most effective when they have a core leadership who refuses to accept the limitations of capitalism and who can build mass support behind a vision of an alternative.
Fight for a future
"In my election campaign last fall and in the movement for $15, I learned that working people are inspired by an unapologetic, principled approach.
"Let's demand what people need to live a dignified life, not just what the political establishment says is 'realistic'.
"To push things forward, we've got to provide a vision of what's possible with the huge wealth working people create – and not confine ourselves to the crumbs this broken system of capitalism can 'afford' to give us.
"The victory in Seattle was an excellent first step. We must use the energy to spread the fight for $15 nationally and to expand the struggles on other key issues facing working class communities. If we organise with a bold perspective and a socialist vision, we have a world to win."
What is true in the US is true here. Join the socialists today.
---
Wales: one in five earns below living wage!
Ronnie Job, Unison steward, personal capacity
As the ballot of Unison members in local government confirms a majority for strike action on pay, a report for the Living Wage Commission has found that over one in five workers in Wales earns less than the Living Wage (calculated at £7.65 an hour). There are just 18 employers in Wales accredited as Living Wage employers by the Living Wage Foundation.
Scandalously those earning less than the Living Wage include thousands of council workers employed in Labour-led authorities. They will be striking on 10 July to try to halt the 20% drop in real wages Unison estimates has taken place under the Con-Dems.
The Labour Welsh Government has responded to the report's findings by saying that they are proud to be a Living Wage employer and that they encourage other employers to do the same.
You'd think Welsh Labour would start with the half of all councils in Wales that they lead but some of these out Tory the Tories in driving down their workers' wages. Bridgend's Labour-run council, in the First Minister's own constituency, announced it was withdrawing from national pay bargaining and was only forced to retreat by a campaign of the trade unions, with no help from the First Minister who refused to get involved.
Cardiff's Labour-led council made a big hoo-ha about adopting the Living Wage but that doesn't apply to the jobs they have outsourced to private providers. And it is even more sneaky; they haven't attacked the hourly rate but have reduced the paid working week for all workers by an hour, an effective 2.7% pay cut! Cardiff council workers report that workloads aren't cut and council workers are expected to do as much in less time for their reduced pay. Top managers cheerfully admit privately that it is a ploy to get the same amount of work for less pay. Trade unionists fighting to end low pay can't expect any help from Labour then.
If anybody was in any doubt, Ed Miliband spelled it out at the GMB conference when he told delegates he would not be supporting strike action on 10 July. This probably won't stop a number of Welsh Labour politicians posing for photos on picket lines on the day but you'd expect a lot more, given the £5.7 million Unison alone has paid to the Labour Party since 2010.
It's not good enough; union members in those Labour councils not paying at least the Living Wage and especially in those like Cardiff and Bridgend, trying to drive already low wages down even further, should join with the Trade Unionist and Socialist Coalition to build a political alternative and secure elected representatives who will actively support trade unionists fighting to stop the race to the bottom on our wages.
Only concerted and coordinated strike action can stop this race to the bottom and 10 July must be the springboard to further, more widespread action, not a one-off protest.
Wages have been driven down so much that the Living Wage would be a big advance for many workers in Wales but in order to get by, workers on the Living Wage still need to claim benefits. The campaign for the Living Wage can only be a first step towards a minimum income that reflects the real cost of living and is why the Socialist Party supports the demand for £10 an hour.
---
Want to fight the cuts?
Join the socialists!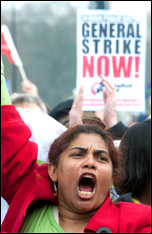 On the 26 March 2011 TUC demonstration – 24-hour general strike now!, photo Paul Mattsson
The relentless pursuit of profit by the super-rich brought about the banking crisis and recession. Our world is run on that basis – the short-sighted, chaotic capitalist system that exists only to enrich the fat cats.
We need an alternative to this unequal and exploitative system. Taxing the rich would be a good start – for one thing it could easily wipe out the deficit. But more fundamental change is needed.
The Socialist Party fights for socialism – a democratic society run for the needs of all and not the profits of a few. We also oppose every cut, fighting for every possible improvement for working class people.
The banks and major industries would be publicly owned and democratically controlled. It would mean democratic planning of the economy under workers' control and management to meet the needs of all and to protect the environment.
The organised working class has the potential power to stop the cuts and transform society. As capitalism dominates the globe, the struggle for genuine socialism must be international. The Socialist Party is part of the Committee for a Workers' International (CWI), a socialist international that organises in over 45 countries.