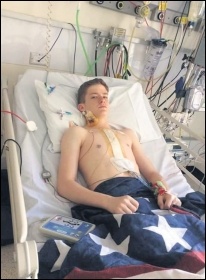 Children's heart surgery is under threat, photo by Steve Score (Click to enlarge: opens in new window)
Steve Score, Leicester Socialist Party
Children's heart surgery is to end at three hospitals around the country if NHS England gets its way. My son, along with thousands of others, has had lifesaving operations at specialist heart centres like the one at Glenfield Hospital in Leicester: one in 111 kids are born with congenital heart disease.
Glenfield serves a wide area across the east Midlands and there has been an angry response, with nearly 30,000 people so far signing the online petition for a public review into the decision.
NHS England bosses claim the decision is to meet "standards", but the key one is an arbitrary figure of 125 operations a year per surgeon. This is supposedly so they can "maintain their skills" in order to ensure "excellent outcomes".
Yet last year the three surgeons at Glenfield carried out 332 with the number increasing each year. In fact, recently, the Care Quality Commission pointed out that Glenfield has "excellent clinical outcomes."
Shirley Barnes, a campaigner whose son has had surgery at Glenfield said: "NHS England are treating patients and their families with total contempt. They are taking away any element of choice as it seems highly likely that children will have to go wherever there is a bed. This could be the other end of the country and will inevitably mean extra stress, anxiety and expense for families."
Cuts
In a week that Jeremy Hunt has been lambasted by senior scientists and doctors for misusing statistics on weekend deaths in order to justify imposing the junior doctors' contract, you have to wonder about the arguments of NHS England in this case too.
They deny this decision is to do with cuts, but is it any coincidence that this has happened at the same time as the government is imposing billions of pounds in efficiency savings because of NHS deficits?
Not only will it be devastating for heart patients and their families, it will have knock on effects on many other services such as children's intensive care.
Glenfield pioneered ECMO (Extracorporeal Membrane Oxygenation) equipment and skills which allow patients, both adults and children, to survive heart or lung failure – it has 50% of the entire county's capacity. It even has a mobile unit that rushes this equipment and medics to other hospitals to save lives.
A campaign has been set up which includes patients and their families, trade unionists, health workers and activists. We have the support of a number of trade union bodies and campaigns and it is growing. On 24 September we are holding a public meeting, and on 29 October there will be a demonstration through Leicester.
Similar proposals were defeated three years ago. We are determined to stop this horrific attack on children's health services once again!
Public meeting
Saturday 24 September, 2pm at Hanson Hall, Leicester Adult Education Centre, Wellington Street, Leicester LE1 6HL