Why prison officers rejected the pay and pensions deal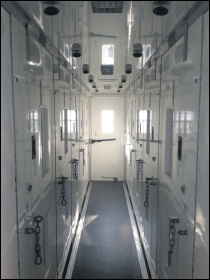 Prison officers and inmates are in danger because of cuts, photo West Midlands Police (Creative Commons) (Click to enlarge: opens in new window)
A prison officer explains
Now that the offer on pay and pensions for prison officers has been overwhelmingly rejected by the Prison Officers Association (POA), the government and its media lackeys will no doubt do all they can to paint POA members as greedy money grabbers. This is their tried and tested method of breaking public support for unions in dispute. Yet here is the truth surrounding the deal:
The guaranteed three year pay deal of 0.5-1% a year is a fallacy: Neither the government or the national offender management service have the power to implement this.
Since prison officers' right to strike was removed in 1994 an "independent" pay review body was appointed to award prison staff any increase in wages. Each year the employer and union make submissions to the pay review body to be considered. This aspect of the deal was simply a promise from the employer that its submissions would reflect this agreement. It must be noted that prison officers joining the service prior to 2008 have endured a seven year pay freeze at the hands of the pay review body.
A guaranteed retirement age of 65: Hogwash! This was simply a promise that prison officers could retire at the state pension age (SPA) minus three years. If the SPA goes up, then so does prison officer retirement.
Most prison officers had a contracted retirement age of 60 prior to the civil service pension reform. We hold the power of a constable and are subjected to extreme violence on a daily basis and rightly deserve to retire at 60 as our colleagues in the police and fire service do.
Furthermore the employer completely excluded operational support grades/auxiliary officers in this part of the deal with no reduction in their retirement age whatsoever, which was frankly unacceptable. The POA have a live mandate to secure a reduction in pension age to 60. SPA-3 would just not cut it.
Most importantly this deal was only offered in the hope that the POA would fully accept the prison reform White Paper which in essence would mean the 'academisation' of the prison service.
Finally, the POA NEC did not "approve" or "recommend" this offer. It simply acknowledged that it was the best that could be achieved through negotiations. Read between the lines!
---
This version of this article was first posted on the Socialist Party website on 22 December 2016 and may vary slightly from the version subsequently printed in The Socialist.