Link to this page: https://www.socialistparty.org.uk/issue/954/25715
From The Socialist newspaper, 28 June 2017
Reports: organising to fight for safe homes after Grenfell
Socialist Party members have been organising safety campaigns up and down the country.
West London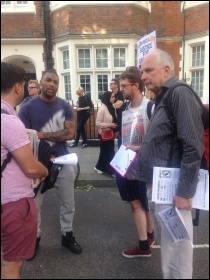 Justice for Grenfell! Socialist Party members distributing leaflets, photo Sarah Wrack (Click to enlarge)
West London Socialist Party's campaign work on Grenfell, in our branch area, again received a friendly response. Increased sales of the Socialist, petition signatures, good donations to our fighting fund by people who had already given generously to help the Grenfell residents directly.
In the 1960s in the same area, the action of private landlords provoked big protests. Landlords were typified by Peter Rachman, who sent teams of thugs with dogs to force tenants out and push the rent up for the next tenants.
We had to set up barbed wire around their flats and organise all-night picket patrols to protect them. We have to ensure tenants' struggles are not forgotten this time.
Keith Dickinson, West London Socialist Party
I was with Socialist Party members local to Grenfell Tower on 17 June at Portobello Road Market campaigning for justice for Grenfell (see some of our demands). We were thanked, people gave us thumbs up, and our campaign stall was regularly mobbed. As well as angry passers-by grabbing leaflets, over 30 people bought copies of the Socialist.
Ian Pattison Waltham Forest Socialist Party
Coventry
Here in Coventry, WM Housing has revealed that just two of its 24 tower blocks have a sprinkler system installed - with only another two scheduled for installation.
Living in one of their tower blocks myself I noticed they quickly put up fire safety notices a couple of days after the Grenfell fire. Socialist Party members in Coventry are working towards a local housing safety campaign, initially with a petition and a plan for a public meeting.
James Clement, Coventry West Socialist Party
South London
We started an initiative called 'Ashmole ASAP' on 26 June, calling for improvements to make the two tower blocks on the Ashmole estate in Oval, south London - including my own home - 'As Safe As Possible, As Soon As Possible'.
We're using the slogan "we deserve the right to sleep safe at night." Letters signed by tenants asking for communal alarms, sprinklers and fire brigade safety checks, among other things, will go to our housing association Metropolitan, and Lambeth borough council - with further action to follow.
Steve Nally, Lambeth Socialist Party
Cardiff
Cardiff West Socialist Party has begun building a campaign with residents in two tower blocks in the Butetown docks area. None of the blocks have sprinklers. As well as a campaign stall and leaflets, we organised a street meeting outside the block. Residents attended and raised safety concerns.
We have also organised a benefit concert for Grenfell at the Gwdihŵ Café Bar, 7 July at 7.30pm. We expect up to 250 there and lots of funds to be raised in solidarity with all those touched by the disaster.
Rich Edwards, Cardiff East Socialist Party
Socialist Party members and supporters of the Young Socialists campaign protested against the Tory and Blairite policies which gave rise to Grenfell on 21 June. 30 people turned up at short notice, including nine new faces.
We had people of all ages coming up to us and thanking us. They were proud we were refusing to let Grenfell be brushed under the carpet.
John Williams, Cardiff East Socialist Party
East London
East London Socialist Party is proposing to the One Housing Tenants' Action Group in West Ham to jointly visit Ferrier Point tower block in Canning Town. The block has cladding made and fitted by the same company as Grenfell Tower.
The One Housing Tenants' Action Group recently defeated plans by their housing association to hike rent by 40%. They are planning to link up with other residents' associations fighting for lower rents and safer homes.
Scott Jones, East London Socialist Party
Read more - urgent action needed
Previous reports and analysis
Why not click here to join the Socialist Party, or click here to donate to the Socialist Party.
---
In The Socialist 28 June 2017:
---
What we think

Step up the fight to kick out Tories and Blairites
---
Grenfell Tower

After Grenfell - fight for safe homes

Camden evacuation - residents expose risks - Blairites duck responsibility

Grenfell fire compounded by overcrowding: build more council homes now

Reports: organising to fight for safe homes after Grenfell

Council union responds to Grenfell
---
Socialist Party news and analysis

Police accused of killing cover-up

NHS secret cuts plans exposed

Barclays finally charged for having hands in till

Students 'skirt' school uniform issue!

Homelessness - Corbyn offers housing revolution

Benefit cap defeat for government

Tories may have broken election laws... again

What We Saw
---
Socialist history

Liverpool's 1983-87 socialist council
---
International socialist news and analysis

Trump and the fossil fuel corporations - a lethal combination for the planet

Jobstown Not Guilty - verdict imminent
---
Workplace news and analysis

Trade unions must organise to kick out the Tories

Unison conference: confident delegates take control, give Corbyn 'rapturous' welcome

Refuse workers strike against bullying bosses

"What do we want? Pay parity.
---
Socialist Party reports and campaigns

Organise the 'youthquake'! Young Socialists - Generation Socialist

Cardiff: unity in solidarity with Grenfell

Corbyn inspires thousands at Glastonbury

To join the struggle to save the NHS

From Militant to the Socialist Party - what you thought

Pentrich Rebellion 200 years on
---
Home | The Socialist 28 June 2017 | Join the Socialist Party
Subscribe | Donate | Audio | PDF | ebook
---