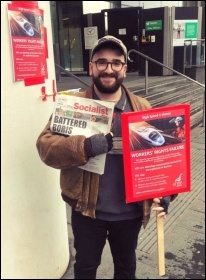 HS2 workers protest in Birmingham 7 October 2019, photo Lenny Shail (Click to enlarge: opens in new window)
Kristian O'Sullivan, Birmingham North Socialist Party
Unite the Union organised a protest outside the regional headquarters of HS2 in Birmingham on 7 October.
This was because the two main sub-contractors of HS2 in the West Midlands – Skanska and Balfour – went back on a trade union agreement to ensure that the £55 billion rail project allowed facility time for union activity and reps being free and able to speak to their membership about workplace issues and collective bargaining.
HS2 and its subcontractors have not kept to this agreement and are now actively preventing union reps from speaking to their membership and HS2 workers, whether it be in the canteens or anywhere on site. There is a real culture of fear and bullying.
Unite has already had to step in to ensure workers receive the correct holidays and that critical accident and death benefits are paid. And there is the recurring issue of workers losing up to £100 a week of overtime payments due to payroll faults that have become synonymous with these type of dodgy umbrella companies!
Birmingham Socialist Party members and National Shop Stewards Network activists were greeted warmly by the protesters who were Unite members and officials.
We brought solidarity and helped hand out leaflets with lots of support from the general public and affected workers.
We say that if these issues are not addressed by the employers quickly, then Unite should look to a more militant industrial strategy and begin the process of membership balloting for strike action.
The Socialist Party demands the renationalisation of the entire rail service under democratic control and management by workers and service users, to kick out all vulture profiteers and to end the race to bottom culture that is this for-profit capitalist system.
Victory to HS2 workers!