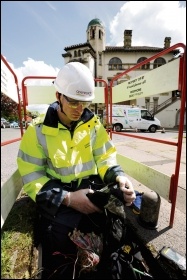 BT Openreach internet engineer at work, photo BT/Johnnie Pakington/CC (Click to enlarge: opens in new window)
Clive Walder, former BT employee
I was really interested in your article on nationalising broadband. (See 'Broadband: privatisation has failed to deliver').
When I worked for BT, their internal email communications were peppered with references to needing 'matching funding' to provide broadband in unprofitable areas. From guess where? The government!
The fact that only 6% of the population in Britain have broadband cables leading directly to their home illustrates their penny pinching approach. The private sector will never provide broadband to every home, because they exist to make profit not to make people's lives easier.
Denied
Without public sector investment, there is a real danger of people in sparsely populated rural areas being denied goods, services and even jobs as the world becomes ever more wired up and broadband becomes the delivery method of choice for information and engaging with the wider world.
The tech giants talk as if broadband is new technology, but it isn't. Its potential was discovered as far back as the 1970s.
The Post Office Engineering Union – forerunner to the telecoms section of the Communication Workers Union (CWU) – passed policy calling for the nationwide rollout of broadband to allow remote medical diagnosis and examination and home-based education for the housebound in 1981! This never happened because it wasn't profitable.
Before Boris Johnson labels Jeremy Corbyn's policy of renationalising BT 'a crazy communist plot', he should read his history books.
A Tory government nationalised the infant telephone network in 1912. They saw no prospect of private companies at the time making the necessary investment to develop the network.
Billions of pounds of public funding created a successful and profitable company that was attractive to privateers.
The history of the relationship between the private sector and technology proves beyond doubt that they can never realise the full benefits of our vast technological potential. Only a publicly led, planned telecoms industry will.