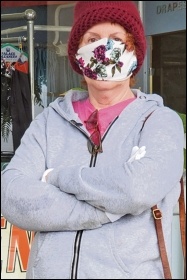 In Leicester, we are organising a campaign to defend safety and workers' rights in the pandemic-hit city (Click to enlarge: opens in new window)
Simon Robinson, president, Leicester NEU (personal capacity)
Trade unionists, parents and campaigners across Leicester are organising a campaign to defend safety and workers' rights in the pandemic-hit city.
At a meeting of Leicester District National Education Union (NEU) on Wednesday 1 July, Socialist Party members successfully proposed a motion describing the conditions which led to the Leicester lockdown being imposed by the government (see 'End the scandal of sweatshop labour in lockdown Leicester').
The motion called on Leicester NEU to organise "a joint union and parent Covid defence campaign to support workers defending their rights to a safe workplace. The NEU to coordinate with the Safety First parents', carers' and students' group, and other unions."
An online meeting was called for Saturday 11 July, attended by members from at least eight different unions and campaign groups, and supported by Leicester and District Trades Council, which coordinates across unions in the area. Union activists and local campaigners were invited to discuss the Leicester lockdown, and how we can organise together to resist the effects of the Covid-19 crisis on workers in Leicester.
I was proud to represent Leicester NEU, and was able to describe the partial successes we had in preventing a rush to reopen schools in June, using the NEU's 'five tests' as a key bargaining tool.
However, it was the subsequent outbreaks in schools during June, many in east Leicester, that led Leicester NEU to call for a temporary closure of all schools while the outbreak was investigated.
This call was ignored by the city mayor, Labour's Peter Soulsby, and the local public health officials, until the government declared the current lockdown.
Socialist Party member Lindsey Morgan, from the Safety First campaign group, described how it had linked up with Leicester NEU to raise awareness of the five tests, and to put pressure on headteachers and the council. The campaign is calling on heads and academy trusts to not fine parents for non-attendance in September, and for local councillors and MPs to back that demand.
Representatives from the BFAWU union spoke of their campaign to unionise workers in many of the 1,500 sweatshop textile factories in east Leicester. Many of these workers are earning between £2 and £3 an hour in unsafe conditions.
Workers are being intimidated by bosses and immigration officials to prevent them speaking to unions and campaigners. BFAWU plans a door-to-door leaflet campaign to organise these workers.
National Shop Stewards Network (NSSN) speaker Moe, a bus driver and Unite union safety rep, described how he had helped organise bus workers in London to gain vital safety measures. This was despite intimidation from bosses, and lack of support from Labour. He explained how the NSSN, alongside the local trades council, could play an important role in organising solidarity work in Leicester.
A representative from the 'Modern Slavery – This Must Stop' campaign, explained that up to 10,000 workers could be victims of modern-day slavery in Leicester. The campaign has worked hard to highlight this over years.
The meeting discussed how the union movement in Leicester can coordinate to unionise and defend workers in the textile industry, and how the NEU, parents and students can fight for a safe return to schools later this summer.