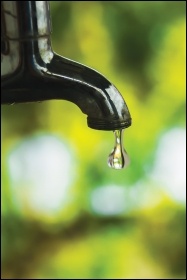 Britain's privatised water infrastructure loses over 3 billion litres a day through leaks (Click to enlarge: opens in new window)
Roger Bannister, Liverpool Socialist Party
The House of Commons Public Accounts Committee has expressed concern that parts of England could run out of water within 20 years. This seems a crazy situation – especially to those of us living in the North West, where water falls freely out of the sky on an all-too-frequent basis!
And crazy it is, because it is the crazy logic of capitalism that created it. Prior to 1989, water and sewage were the responsibility of ten publicly owned regional water authorities. But Tory prime minister Margaret Thatcher had them in her sights for privatisation.
She started by curtailing the ability of water authorities to borrow money. This meant they were unable to maintain infrastructure – much of which dated back to the 19th century, and was in dire need of renewal.
Thatcher then posed privatisation as the 'only' way to guarantee sufficient investment. Her government sold off the regional water authorities in 1989. Since 1991, they have paid out £57 billion in dividends, funded by £48 billion in debt, which could have gone on infrastructure.
Instead of renewing the system, the new capitalist owners pursued asset-stripping to make a fast buck for shareholders. By 2006, they had sold off reservoirs to the value of around £500 million, most of them drained to make way for housing developments.
Thames Water, responsible for the rapidly expanding Greater London conurbation, sold off 24. Severn Trent Water in the industrial Midlands sold off 12 in 2011, and a further five in 2016.
Attacks on workers
At the same time, water companies embarked on a process of reducing pay and conditions for their workers. Often they introduced a two-tier workforce, where new employees were hired on worse conditions than those transferred from the old regional water authorities.
Meanwhile, water charges steadily increased. They are now over 40% higher than their pre-privatisation levels.
As well as drastically reducing storage capacity, little action was taken to upgrade the Victorian system, which was, and still is, in a state of degeneration.
So today, 20% of the water in the supply infrastructure – over 3 billion litres – leaks out on a daily basis! And the nine private water firms released raw sewage into rivers 200,000 times last year.
Rather than deal with this situation, the water companies are looking elsewhere to get water. From rivers, and in particular in the south of England, from chalk streams.
If they are allowed to do this, it would be at the cost of disaster for wildlife habitats, and possibly agriculture, which often relies on rivers and streams for irrigation.
Although the Labour Party officially has a policy of renationalising water, Sir Keir the Silent has made no pronouncement on this scandalous situation. That is not good enough.
Water should be renationalised as a matter of urgency, under the elected control of water workers and users, with no compensation to the fat cats who have brought the industry to the brink of disaster.