Do you have something to say?
Send your news, views and criticism, in not more than 150 words, to [email protected] – or if you're not online, PO Box 1398, Enfield EN1 9GT
We reserve the right to shorten and edit letters. For legal reasons, we need your full name, address and phone number – but confidentiality will be respected if requested
---
Stand together and fight back
NHS staff have literally put their lives on the line during this pandemic – which is not something they signed up for. As a society we owe them so much. A 1% pay rise is an insult.
The Tories use the excuse that 'there's no money due to Covid-19. We can't afford it…'
If we let them get away with this, they will come back again and again to attack our pay and the services we rely on. Don't let NHS workers stand alone. We need all the public sector trade unions to coordinate industrial action and strike together against pay freezes and austerity.
James Ellis, Leeds
TUSC support
Interviewed by Andrew Marr, Labour's health spokesman Jonathan Ashworth never categorically said that nurses should get a 15% pay increase, and he never said he would support a strike or be on a picket line. He only said he supports last year's Tory budget pay award of 2.1%.
The Trade Unionist and Socialist Coalition supports the nurses' pay demand and any industrial action they take.
Nancy Taaffe, Walthamstow, north east London
Failure of 'opposition'
One reason the Tories only offered NHS workers 1% is because of the massive failure of the opposition, which includes Labour's Keir Starmer and the trade union leaders. They have all but formally signed up to a 'national unity' coalition government.
This failure does not mean NHS workers are not prepared to fight. They are receiving massive public support for the heroic role they have played over the last year.
The Tories always mistake the cowardly behaviour of the workers' leaders as the unwillingness of workers themselves to put up a fight to get what they deserve.
Last year, the health workers' trade unions did next to nothing to support the 15% pay rise campaign organised by rank-and-file health workers.
The Tories have a 13-point lead over Starmer in opinion polls. How shit must you be to be losing to this rotten Tory government!
Martin Reynolds, Walthamstow, north east London
Bullying bosses jeopardise workers' safety
"My life is more important than a bowl of salad!" are the words of a worker from Bakkavor, which provide M&S and other supermarkets with packed salads. He was sacked for being off work with anxiety over the food plant's Covid safety failings.
You might remember Bakkavor. It was in the news last year when a worker took a secret video of the boss telling workers that if he needed to sack anyone, he was "gonna look at who had turned up for work and who hadn't bothered."
There were reports of workers turning up coughing and spluttering. It was clear that low-paid workers cannot afford to take time off work if they're ill.
Then there was a Covid outbreak at the Kent factory. It started with 15 workers. Four days later there were 36, then 91. Two of the factory workers died.
So, the next time you see the advert – "This is not just food… this is M&S food" – spare a thought for the workers packing the food in processing plants across the country.
If capitalism cannot ensure workers are safe at work, then workers cannot afford capitalism.
Elaine Brunskill, Gateshead
A workers' representative on a worker's wage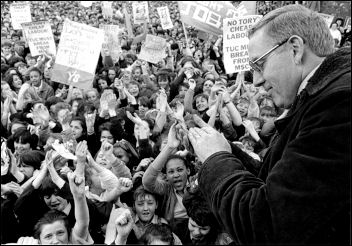 Terry Fields addressing a demonstration in support of Liverpool City Council in the 1980s, photo Dave Sinclair
The Times obituary of former Labour MP for Liverpool Broadgreen, Terry Fields [Militant supporter and Socialist Party member], said he was "a class warrior to his fingertips". It continued: "Fields declined to accept his full salary as an MP… to take only the equivalent of the pay he had earned as a firefighter"…
Contrast this magnificent example with Liverpool council's budget meeting. The Liverpool Echo's headline was telling: "Liverpool council to vote on doubling acting Mayor's pay." This was approved by Labour councillors. Consequently, the allowance of Acting Mayor Wendy Simon, will increase from around £40,000 to just over £80,000.
And yet, at this same meeting, Labour councillors voted through a Tory pay freeze for ordinary council workers who earn over £24,000 a year. They also approved a programme of cuts and council tax hikes…
Like Terry Fields, the Trade Unionist and Socialist Coalition candidate for Liverpool mayor, Roger Bannister, will only accept the average worker's wage. I urge all good socialists to vote for him and other anti-cuts candidates in May.
Alex Smith, Liverpool
Model selection system
The good news for Starmer is that China has adopted the Labour Party's candidate selection system. China plans to use it to ensure Hong Kong elects the 'right' kind of government, just as Labour planned for Liverpool's mayoral election.
Amnon Cohen, North London
Universal class discrimination
I'm on Universal Credit (UC) and the money is a joke. So when I found out the £20 a week rise in payment was only temporary, I couldn't believe it.
I receive £342 per month which is a massive drop to what I was earning while at work. It's barely enough to survive on. But the right-wing media spread propaganda against people on UC, saying they just spend it all on 'beer, cigarettes and drugs'. This is just class discrimination.
Robert Quirk, East London
Royal racism
The right-wing press has been full of criticisms of Meghan Markle after her revelation of racism in Buckingham Palace.
The Daily Mail protests that its vicious attacks on Markle have nothing to do with racism. It is forgetting its own history and its most infamous headline "Hurrah for the [fascist] Blackshirts". To this day, it repeatedly portrays asylum seekers as a threat to Britain.
Racism from the royals is nothing new. Prince Philip has a long record of telling racist jokes.
The Queen and Prince Philip have been exonerated by the media, but the repeated jibes about Meghan Markle's race came from somewhere in the palace.
The attack on her is being used as a means of stirring up race hatred. The fate of the ex-royals is not a matter of concern to socialists. The racist 'dog whistle' outpourings of the establishment media are.
Derek McMillan, Worthing
Capitalist inequality deepens under Covid
A report by Oxfam – 'The inequality virus' – is a stark warning about the growing issue of inequality across the world during the Covid pandemic. With many suffering poverty, some of the wealthiest people significantly increased their personal fortunes. It took just nine months for the fortunes of the top 1,000 billionaires to return to their pre-pandemic highs. For the world's poorest, recovery could take almost a decade.
But it does not have to be this way. The increase in wealth of the ten richest billionaires since the pandemic began, is enough to prevent anyone on earth falling into poverty because of the virus. This is also enough money to pay for a Covid-19 vaccine for all. Clearly the money is out there, it is just flowing in the wrong direction.
Ryan Hall, Devon
International solidarity – nationalise energy industry
For the last 14 years the Committee to Protect Oil, Gas and Natural Resources in Bangladesh has organised vocal, highly visible protests in central London against coal mining conglomerate Global Coal Management Resources (GCM), through its UK branch.
In 2006, a 70,000-strong demonstration in Phulbari, Bangladesh, against GCM's plan to develop open-cast mining there, was attacked by paramilitary forces. Three protesters died and 200 were injured. The Bangladesh government withdrew the mining licence in the wake of this atrocity.
However, GMC carries on the pretence of having an on-going project in Bangladesh, its website stating that it is "poised" for development once the Bangladeshi government gives approval.
The committee calculates up to half a million people would lose their land, their livelihoods, and become homeless.
This year's protest, which took place during the GMC shareholders annual general meeting, was online and leading members of the committee in Bangladesh participated.
I backed the call for the energy industry to be nationalised under democratic workers' control and management, not just because of criminal activities such as those described in the meeting, but also because of a decades' long failure to act on climate change.
Pete Mason, Barking, east London
Marxism versus Stalinism
The mention in Clare Doyle's film review of 'Dear Comrades' (see socialistparty.org.uk) of how the real traditions of the 1917 Russian Revolution were hidden from the population, reminds me of an incident in Budapest several years ago.
The Hungarian government has preserved many of the old Stalinist monuments and keeps them in an open-air museum just outside the city limits.
I took advantage of the guided tour. The guide looked like she would have only been an infant when Stalinism was overthrown in Hungary, and so would have grown up with a capitalist view of her country's history.
At one point of the tour, she launched into a mild tirade against Lenin's "bloodthirsty tyranny". I explained the real record of Lenin and the Bolsheviks with regards to democracy, in contrast to Stalin. And while I didn't convert her into a revolutionary, I did find her open to alternative ideas.
It is always worth setting the record straight with people who have been deliberately miseducated. The state of capitalism in the ex-Stalinist countries makes people more open than ever to the ideas of genuine Marxism.
Clive Walder, Birmingham