Underpaid and overworked – NHS workers say: 'Enough is enough'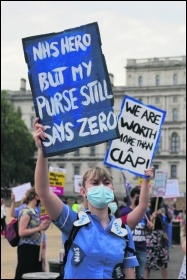 Health workers protest for a 15% pay rise. Photo: Steve Eason/CC (Click to enlarge: opens in new window)
Rhian, South Wales nurse
NHS staff have been on the Covid front line since last March.
Over 800 healthcare staff have died, and the Boris Johnson government won't even release their names. People went out to work, and they didn't come home.
We should have been protected properly. And the contract for PPE shouldn't have gone to Matt Hancock's mates.
There's been a total disregard for life – right down to the privatised test-and-trace systems that never worked. The UK is the country with the fifth highest Covid death rate – largely the result of underfunding and privatising health and social care services for many years.
We were due for a pay review in April. Nurses are the lowest-paid graduates, but some frontline staff, like healthcare support workers, go to work for as little as £9.21 an hour. And the government has offered us a 1% pay 'rise' – basically a 'Happy Meal' a week.
In the last year we've tried to keep everyone safe. Now, on 3 July, the NHS's 73rd birthday, we feel it's the right time to make a stand and say – 'enough is enough'.
We want a safer environment for our patients, we want to end privatisation, and we want to be paid in line with our skills and responsibilities.
Nurses United, a grassroots organisation, is backing a 15% rise – a fair ask, really. Unite the Union is backing it, as is the GMB union and Wales Trades Union Congress.
One of our favourite hashtags at the moment is #NHSPay15. It doesn't matter which union you're with, we all need to stand together.
As workers, we need to make our voices heard. We need to say to our union leaders: "This is what we want. We're rejecting this pay offer. We will strike. We're prepared to do this." Then, the pressure would be applied massively on government.
The NHS is one of the biggest employers in the UK. The union leaders need to be organising. They need to be preparing to mobilise. They need to be ready for a ballot. They need to build to do that, so we can get the pay rise we deserve and the NHS the funding it needs.
Join the protests in your local area on 3 July – see keepournhspublic.com for details
See also: