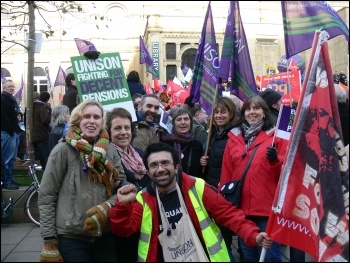 Campaigning against council cuts in Leeds
Sarah Welch, West Sussex Socialist Party
In 2019-20, the former chief executive of the Tory council in West Sussex received a £265,000 exit package. Financial statements for 2020-21 reveal three more large payouts.
The executive director for adults and health received £110,473. The former director for communities received £88,358. And another received £34,000.
In total, 43 exit deals cost the council £1.1m in 2020-21. The cost for 2019-20 was roughly the same for almost double the number of exit packages at 81.
There have been large payouts to recruitment agencies. Hamptons Resourcing received £173,400 and McLean Partnership received £249,423.
This is just the tip of the iceberg. Millions of pounds of taxpayers' money just wasted.
We are waiting to hear what cuts are being made to our service, adult social care. We think it will be over £2 million. The council constantly tells us that it has no money, and has "difficult decisions to make".
In 2018, I was part of a campaign group fighting to keep my son's centre open. We attended one of the council committee meetings. When they adjourned for lunch and we walked through the dining area, we saw their five-star buffet, including waiter service and wine.
Our local paper, Chichester Observer, has pointed out that the only other West Sussex residents in receipt of free food are some school children dependent on their parents' benefit levels. They only receive £15 supermarket vouchers a week in school holidays.
The council's gluttony is an insult to the people who have just had their Universal Credit cut, and all those that have been forced to use food banks. It's yet another example of the greed and mismanagement at the top.
We need an end to cuts, and democratic workers' control to run the services that we all need.