Revolution can only go forward if entire capitalist ruling class is overthrown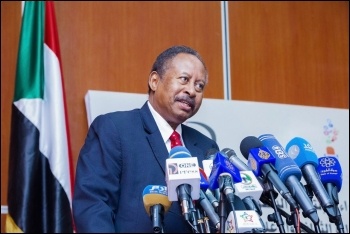 Abdalla Hamdok, Photo: Ola A Al Sheikh
"Hamdok has sold the revolution," chanted protesters in Sudan's capital, Khartoum, after a deal was announced between military leader General Abdel Fattah al-Burhan and Abdalla Hamdok, the ousted civilian leader of the country's 'transitional government'. Thousands also rallied in Khartoum's twin city Omdurman, and in other cities.
The protests had originally been called by the main opposition movement, the Forces of Freedom and Change (FFC) following a new bloody crackdown by Sudan's armed forces.
Sudan's masses have been continuously demonstrating on the streets and striking following al-Burhan's coup d'etat on 25 October, when he declared a 'state of emergency' and ousted the two-year-old transitional government.
Under the new agreement Hamdok, appointed as prime minister after the overthrow of dictator Omar al-Bashir in the 2019 revolution, will again lead a civilian 'government of technocrats' for an unspecified 'transitional' period. In reality, the military will continue to rule. Indeed, the signing ceremony was attended by military leaders associated with the former al-Bashir regime.
"Treacherous"
The Sudanese Professionals Association, a leading opposition group, called the agreement "treacherous". In its statement the FFC said: "We affirm our clear and previously announced position: no negotiation and no partnership and no legitimacy for the putschists."
The Committee for a Workers' International (CWI – the socialist international organisation to which the Socialist Party is affiliated) had warned that the compromised transitional government would allow the military chiefs time to prepare the ground to stage a coup.
The revolution can only go forward if the entire capitalist ruling class is overthrown and socialist measures introduced by a government of workers and the poor to eradicate poverty and unemployment and rebuild collapsed services.
To that end the neighbourhood resistance committees formed during the 2019 revolution, and other bodies, should link up to lead a movement that sweeps away military rule and the whole rotten system.
For background material see 'Sudan – mass protests and general strike against coup' on socialistparty.org.uk