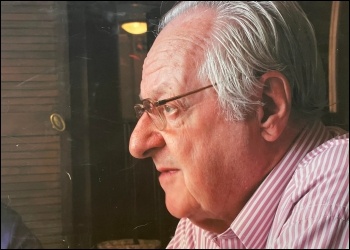 Roger Keyse, South East London Socialist Party, Niall Mulholland, East London Socialist Party
Socialist Party members are saddened to hear about the loss of Ted Austin, aged 81, who died on 11 November, following a short illness. Ted was a working-class stalwart of the Socialist Party in south east London over four decades. Ted was known for his deadpan humour and independent mind.
Ted grew up during World War Two, and its aftermath, in a large working-class family in a small flat in Elephant and Castle in south London. Like many of his generation, Ted faced serious hardships in his early years and young adulthood.
After school, he worked at various jobs, including as a photo-finisher for horse races, and he often lived by his wits. In later years, Ted's removal van was a ubiquitous sight in south east London. Many financially hard-up Socialist Party members benefitted from Ted's generosity, as he moved their house belongings for a nominal fee or for free.
Ted's political instincts were always on the left. During the 1970s and early 1980s, he vocally supported the civil rights struggle in the north of Ireland, and attended Tony Benn public meetings.
After his daughters, Lois and Caroline, joined the Labour Party Young Socialists, Ted also became a supporter of Militant (forerunner of the Socialist Party), and his political understanding and activity quickly took off.
He regularly went to show support to striking print workers at Wapping. He helped set up Bexley anti-poll tax union, and became its chair, organising protests against bailiffs and acting as 'McKenzie Friend' to non-payers in court.
He played a key role in the successful campaign to kick the far-right British National Party (BNP) HQ out of Welling, which was very near to where he lived. He helped to organise meetings and protests against the BNP, and was never afraid to confront its members, accusing them of "skulking around the back streets".
Ted also fought tenaciously against the right-wing witch-hunts in the local Labour Party, including political attacks against him and his family. He expressed healthy class contempt for the "trendy middle class" and careerists in the movement.
Press reports of all these activities saw Ted become well-known locally as a principled socialist fighter. He stood for the Socialist Alliance in local elections, coining the slogan, "homes not domes" in response to the construction of the highly contentious Millennium Dome in Greenwich.
Ted's anger at injustices everywhere burned strong. He stoically bore the heavy burden of his son Edward's wrongful conviction, and closely followed the related justice campaign (appeal.org.uk/freshwater-five), confident that the truth will eventually be brought out.
A keen Spurs supporter, Ted played indoor football for many years, raising fighting fund for the Socialist Party, until only weeks before he passed away.
Ted will be hugely missed, but very proudly remembered as someone who overcame many early disadvantages to leave his footprint at some of the epic working-class battles of the last decades.
The Socialist Party sends condolences to Ted's wife, Doreen, his children, Edward, David, Lois and Caroline, his grandchildren and wider family, and to all his good friends in the party.