Just some of the events where the Socialist newspaper was sold in the past week…
Newcastle: Workers and youth look to socialism
On 13 November, the Socialist Party was campaigning on fighting for decent jobs and apprenticeships to end low pay.
One man, after buying our Socialist paper, then saw our back page, and spotted that Unite the Union general secretary Sharon Graham was speaking at our Socialism 2021 event on Saturday 20 November (see page 12).
He is a Unite member, and likes what she is doing. He agreed that Unite members fighting back against the Tories could light up the sky.
Another young man who stopped by our campaign stall was a qualified music teacher, but could only get temporary work.
We went for a coffee afterwards. When the young woman behind the counter saw our Socialist papers, she asked if she could buy one.
It's definitely the case that young people are beginning to look towards socialist ideas. If capitalism cannot afford to give young people a decent future, then young people cannot afford capitalism.
Elaine Brunskill
Mansfield: Why we do what we do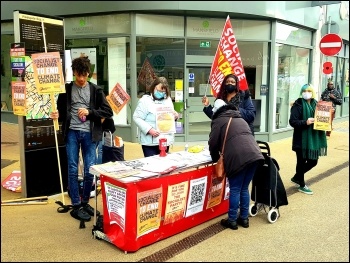 Mansfield Socialist Party campaign stall
The kind of conversations Socialist Party members had with people on 13 November confirm why we do campaign stalls and make sure our leaflets and paper are accessible.
Some people wanted political discussion around socialism, and we were able to give them that. Some people had questions. Some people needed hope, hope that there was a way to fight this rotten rigged system.
Working-class people need to see those campaigning on the streets, with information and a clear name. We need to make this society fairer for those of us that are struggling under austerity and cuts.
People have asked about joining the Socialist Party. It's all down to the work we do, whether we are on stalls, attending our meetings, supporting our paper, supporting our party on social media or just supporting each other.
Paul Tooley-Okonkwo
Coventry: 5,000 signatures and rising oppose hospital parking charges
We now have over 5,000 signatures opposing the parking charges at University Hospital Coventry. At our Socialist Party campaign stall on 13 November, we met more NHS staff who signed the petition. They're sick of being treated like dirt while being called "heroes" by the hypocritical Tories.
With support from Coventry and Warwick Socialist Students groups, we collected well over 100 signatures that day alone. We sold the Socialist newspaper, with the headline – "Fight together for a pay rise".
Sign the petition online at change.org. The Socialist Party says:
End all hospital parking charges
End all PFI schemes and privatisation, renationalise the NHS
A 15% pay rise for all NHS workers
For a fully funded, socialist NHS
Adam Harmsworth