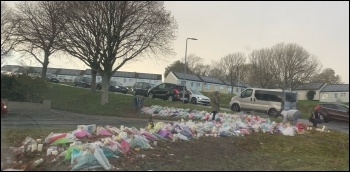 Flowers laid to remember Anne McLeod
Ryan Aldred
500 people gathered on 26 November – one day after the international day for the elimination of violence against women – for a vigil for Bobbi-Anne McLeod.
18 year old Bobbi-Anne was meant to meet friends in town, and was last seen waiting to catch a bus in the Leigham area of the city, but never arrived.
Tragically, her body was discovered a few days later, and two men were subsequently arrested. One of those men, who reportedly had no known connection to Bobbi-Anne, has since been charged with her murder.
Such a terrible turn of events comes merely months after a mass shooting by a self-described 'incel' which rocked Plymouth. The city is once again in a state of shock.
Growing anger
While the mood since Bobbi-Anne's murder has generally been one of sadness, there has also been anger. This came through at the vigil. One of the speakers raised the need to challenge systemic violence against women that has worsened during the pandemic.
The Conservative leader of the council, Nick Kelly, has stoked anger by 'victim blaming', saying: "I think that everybody has a responsibility to try to not put themselves in a compromising position".
However, it is not enough simply to call out bad attitudes, we need to fight for conditions which can ensure women feel safe. This means fighting for better street lighting, for a fully funded, safe and affordable public transport system, for more spending on support services for victims of abuse and rape, and for an overhaul of the criminal justice system which currently means only 1% of reported rapes ends in conviction.
A number of women at the vigil keenly took the Socialist Party's fighting programme for women's rights and socialism. If we are to see an end to sexism and systemic violence against women, we need to build a mass movement to challenge the current system – capitalism – which propagates discrimination, gender inequality and exploitation.
By fighting for a socialist society based on cooperation, equality and solidarity we can eradicate the conditions that allow sexism and abuse to thrive, and prevent tragic events such as this from being repeated.