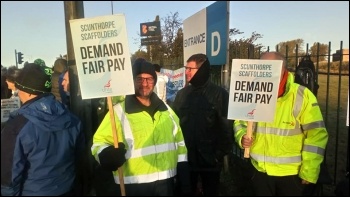 Scaffolders on strike at British Steel in Scunthorpe, photo: Alistair Tice
Scunthorpe: Welcome support for striking scaffolders at British Steel site
Scunthorpe scaffolders, now in their ninth week of strike action, were given a huge boost this morning (1st December) by the visit of Unite the Union general secretary Sharon Graham to the picket line at British Steel.
Sharon talked to pickets and did a 'question and answer' session on the gate. The scaffs want to reballot to continue the strike, so Sharon promised that the union will up the ante against contractor Actavo and British Steel, who still refuse to pay the national industry NAECI rate for the job.
This will include increasing Unite pressure inside British Steel as well as a leverage campaign targeting Actavo contracts around the UK and Ireland.
Despite the mainstream and local media blackout, this long-running strike is gaining more support within the labour movement and even internationally, with Danish scaffolders (who first read about the strike in the Socialist) expected over to Scunthorpe in the next few days!
Alistair Tice, Yorkshire Socialist Party