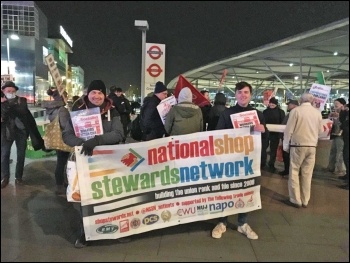 Socialists and trade unionists joined the Shac protest
Nick Auvache, Unite Housing Workers, branch organiser (personal capacity)
On 25 November, bloated CEOs, senior managers and their hangers-on in the social housing industry attended their annual shindig. They were promised an evening of top-class entertainment, gourmet food, champagne and even branded chocolate.
They paid as much as £4,495 for a table at the UK Housing Awards. For those on a budget, there were seats available for as little as £395!
The Social Housing Awards Campaign (Shac) organised a parallel 'awards' ceremony. This was a genuine forum, where real tenants could speak and receive the trophies on behalf of their landlord to highlight their incompetence and profiteering.
Normally these landlords are shielded from the anger of their tenants and workers. But before these 'social landlords' could get to their champagne, they had to run the gauntlet of an impromptu picket set up by Shac and other housing campaigners.
Dressed in their dinner jackets and expensive evening gowns, they were forced to listen to the angry chants of the housing campaigners. We reminded them of the squalid conditions that many are forced to live in, broken promises, endless waiting to fix repairs, dangerous buildings, and exorbitant rents and service charges.
As the guests rolled in, many clearly felt very uncomfortable, others less so. When challenged about the costs of the event, one guest boasted about how she looked forward to drinking champagne paid for by her tenants.
The CEOs of UK's top 25 housing associations are paid a total of £7.82 million a year. No wonder they are totally divorced from the reality faced by their tenants.
The CEOs did not hear the speeches from their tenants outside. They did not hear Kwajo, a young Clarion tenant.
Kwajo has led a campaign against the appalling conditions on his south London estate. One Clarion worker admitted to him that "not even animals would live in these conditions".
The housing bosses may not have heard these words, but they certainly felt the anger. Many of the CEOs and senior management present were, disgracefully, accompanied by representatives from local authorities.
There were justifiable calls for the tops of these housing associations to go. But by itself, this will not be enough.
The 60-foot banner which headed the protest said: "Public housing not private profits". This is what Shac fights for.
We fight for this at protests, in strikes, and at the ballot box. That is why housing campaigners that share our view should join Shac and stand as Trade Unionist and Socialist Coalition (TUSC) candidates in the local elections next year.