Imposed arrangements means more fatigue, more weekend working and threatens jobs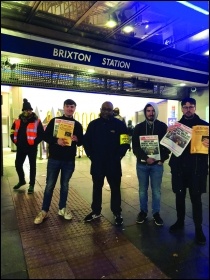 RMT picket line in Brixton
Socialist Party members in RMT
London Underground workers in the RMT union walked out across London on several tube lines on 26-27 November. Socialist Party members joined them on picket lines in a solid weekend of strike action against the abolition of the night tube train operator grade.
In 2015, the RMT took industrial action to defend the right to a work-life balance and stop the implementation of night tube on existing rosters. RMT succeeded and a separate grade was introduced of night tube drivers to cover these weekend rosters.
Move on six years and, under the auspices of a world pandemic, coupled with Tory austerity, London Underground has fired the first shots in what will be a protracted battle to save jobs and pensions by consolidating night tube duties into normal rosters.
Working these compulsory night shifts will mean sleeping the next day to recover. That means less time with family, less time to be productive, never mind the detrimental effect on health that these mixed shifts will have. This is simply an exercise to save money at the cost of a grade and nearly 200 jobs.
The first round of strike action took place on the Central, Victoria, Northern, Piccadilly and Jubilee lines, and are set to continue with all train operator and instructor operators working on the Central and Victoria Lines instructed not to book on any duty commencing between 8.30pm and 4.29am on the following dates: 3-4 December, 4-5 December, 10-11 December, 11-12 December and 17-18 December.
Furthermore, all train operators and instructor operators working on night tube lines are also instructed not to book on for any duty commencing from 4.30am on 18 December to 4.29am on 19 December.