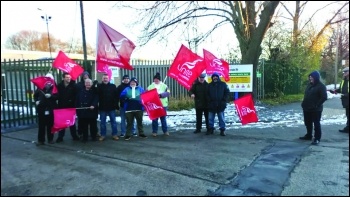 Scunthorpe scaffolders on strike, photo: Alistair Tice
Alistair Tice, Yorkshire Socialist Party
Stagecoach bosses in South Yorkshire have always tried to play off one depot against another, with different settlement dates and pay rates across Barnsley, Rotherham and the two Sheffield garages. So Unite the union submitted an RPI-plus 1% pay claim for all South Yorkshire depots back in May, but the company offered a derisory 1%. Since then prices have rocketed, so now RPI-plus 1% is going to cost the company a lot more.
On 28 November, around 600 Stagecoach bus workers started a week-long strike across the four depots. Barnsley strikers were joined by Unite Community members and the 'Better Buses campaign' with their 'solidarity bus'. Pickets at Rawmarsh in Rotherham spread across both sides of the main road and there were 15-20 at the Ecclesfield depot in Sheffield.
Knowing that Stagecoach can't keep drivers due to low pay, and encouraged by other bus strike victories, Unite members are determined and confident of winning a decent pay rise.
This strike follows 17 days of strike action at Stagecoach in South Wales where Unite members won a pay rise.