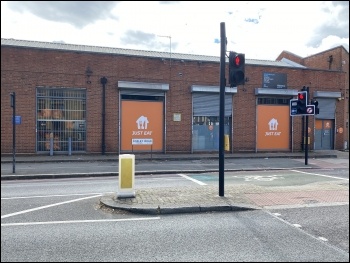 Just Eat depot Photo: Secretlondon
Sheffield Socialist Party
On 28 November, Sheffield couriers employed by Stuart Delivery, which handles deliveries for Just Eat, took part in a motorcade through the city centre before they rallied outside the town hall, and then marched down Fargate to hold a mass picket of around 100 outside McDonalds.
These couriers, members of the Independent Workers' Union of Great Britain (IWGB), started ongoing strike action on 6 December, initially picketing McDonald's outlets from 5pm-10pm.
They are striking because Stuart Delivery is slashing pay on most deliveries from £4.50 to £3.40, an effective pay cut of nearly 25%, as part of a new pay structure that will force couriers to work even longer to make the same money.
Despite undertaking high-risk key work through the pandemic, Stuart's couriers still live on poverty pay, are denied basic worker rights such as sick pay, and are forced to cover their own vehicle and insurance costs. With rising costs of living and fuel spikes, pay cuts will push these key workers further into poverty.
Instead of a pay cut, the IWGB union is demanding a pay rise, for a minimum of £6 per drop plus mileage and paid waiting times after ten minutes.
Bryn Atkinson-Woodcock, Stuart courier in Sheffield, says: "With the rising cost of living, and minimum wage and national living wage rising too, we should be getting a pay rise, not a pay cut. The pay at Stuart is bad as it is. Stuart advertises pay between £15 and £20 an hour online, but this is totally unrealistic. Once you take out the rising price of fuel, insurance, vehicle maintenance, and tax, we're making far below minimum wage. I work six to seven days a week, between eight and twelve hours, and it's obliterated my savings. I'm on my third car since I started working with Stuart because I'm doing 50 to 100 miles a day, and the wear and tear costs take a considerable amount of my earnings. All we're asking for is fair pay so we can pay our costs, earn a decent living, and have the time to see our families."