Nationalise the pharmaceutical giants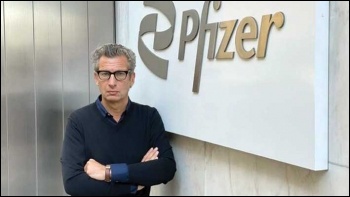 Pfizer estimates an income from the Covid vaccine of $36 billion this year
Barbara Clare, Stevenage Socialist Party
This Dispatches programme reveals the enormous profits made by pharmaceutical giant Pfizer, the lack of vaccines sent to poorer countries, and how Pfizer money helps spread misleading claims about rivals.
Pfizer's Covid vaccine made it one of the most powerful companies on the planet. Its jab is on course to be one of the most profitable pharmaceutical products ever.
Pfizer estimates an income from the Covid vaccine of $36 billion this year – the largest annual revenue of any drug in history.
This could rise to $55 billion next year. Analysts put this down to prioritising selling to rich countries willing to pay higher prices.
For the booster rollout, the Tory government has decided to go primarily with Pfizer. But in the summer, Pfizer raised its price from £18 a dose to £22.
Dr Zoltan Kis estimated the cost of a single vaccine – including raw material, wages and production facilities – to be between 80 US cents and $1.40. Pfizer claims this does not include clinical studies, increased manufacturing and global distribution. Anna Marriott from Oxfam says the NHS has paid £2.6 billion to Pfizer, over £2 billion more than the cost-price warrants.
If there is a legal dispute between Pfizer and the government, it goes to a secret arbitration panel, instead of a UK court. The UK isn't even allowed to say it's in a dispute with Pfizer. The Department of Health refused to say why this was agreed, or comment on the amount it paid Pfizer.
Pfizer refused to share its vaccine recipe or license its technology to give poorer countries greater access to its jab. Dr Tom Frieden ran the Centres for Disease Control, America's top public health agency, from 2009 to 2017.
He said: "People all over the world are waiting for vaccines. Because of that, people are dying today, and there is a higher risk that we will have new forms, new variants, new mutants of the virus that causes Covid that could evade this or future vaccines.
"If you're just focusing on maximising your profits and your vaccine manufacture, you are war profiteering." Of the two billion vaccines delivered, only 16% have gone to lower-middle-income countries, and less than 1% to the very poorest nations.
'Vaccine Wars' highlights evidence that Pfizer money helped spread misleading claims about rivals. A slide from a presentation to Canadian health professionals lists a couple of advantages and a long list of disadvantages of viral vector technology, used by Astra Zeneca (AZ).
The slide suggests that the AZ jab might turn a healthy cell cancerous. And that the AZ vaccine cannot be used in immunocompromised subjects.
The slides were partly funded by Pfizer. The key speaker has received Pfizer funds.
One of the slide's authors was a former Pfizer advisor. Pfizer claimed they did not edit or influence the presentations.
Brook Jackson was a regional director for Ventavia, a company running trial sites of the Pfizer jab in Texas. She noticed many irregularities – inconsistency in signatures, missing dates and logs of suspicious looking blood samples
She believes somebody falsified or fabricated data. And information about whether the vaccine or a placebo was administered was written on patient charts, which is misconduct.
She reported this to the Food and Drug Administration (FDA), who supervise the trials. Ventavia fired her several hours later. The FDA contacted her after a few days, but she never heard from it again.
All this information about Pfizer demonstrates the need for the nationalisation of the pharmaceutical industry, where the motivation would not be one of profit, but concern for all of humanity.
Pfizer should not dictate who gets the vaccine first. Selling only to richer countries only prolongs a pandemic. It is morally wrong and scientifically impractical.
The production of vaccines should not be a 'war' as the programme's title suggests, but one of mutual cooperation by all nations and the sharing of technology. This can only be achieved under a democratic socialist federation of nations.
Vaccine Wars is available on channel4.com