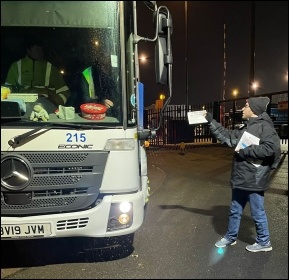 Socialist Party members leafletting
Coventry Socialist Party
Coventry bin workers have voted overwhelmingly for strike action over low pay and an attempt by the Labour-run council to wreck the bin workers' Christmas.
At the eleventh hour the council has suddenly decided that the bin workers don't deserve a Christmas break. Previously, they always had Christmas week off. This decision was made despite the fact that they have been risking their lives working through nearly two years of the Covid pandemic. With a month until Christmas itself, the bin workers' festive plans could be ruined and family life disrupted.
The second issue is that the drivers' wages are as stale as the waste they've been collecting all year. Our bin workers have had real-terms cuts for years. Other councils have, under pressure, brought in retention payments or increased pay outright. Coventry Labour Council refuses to pay anything more.
Bin worker strikes have won in at least five other councils just this year, including Sandwell bin workers winning a 4% pay rise and £1,000 uplift in early December. Coventry council should remember the gigantic victory won by Unite's bin workers in neighbouring Birmingham just four years ago. Then, the Labour council tried its luck at firing and rehiring 113 workers – essentially cutting their pay to cut costs. The bin workers took 12 weeks of strike action before the council caved in entirely.
The strike action follows a foul record by the council with its own workforce. Since 2010, the council has slashed over 2,000 jobs as part of carrying through brutal Tory austerity. It has repeatedly clashed with trade unions and has ignored protests against savage cuts to its services in that time, even when anti-cuts campaigners, including from the Socialist Party, have demonstrated that legal no-cuts budgets are possible.
The council increased its reserves while making cuts, and yet it wants to blame the bin workers for the strike. The council is refusing to end the dispute when it could easily stand on the side of workers in Coventry, not against them.
On pay, the council could frankly pay far more to keep its bin workers, and even hire more to make their jobs easier. With total council reserves amounting to £144 million and wide-ranging borrowing powers, far more could be done for the people of Coventry while a fightback against austerity is built.
But no Labour council has shown any interest in taking up that fight, which is why the Socialist Party campaigns for anti-cuts socialist councillors under the Trade Unionist and Socialist Coalition (TUSC), and will be standing in elections in May next year.