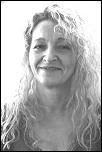 OVER
150 jobs are to go at Manchester Airport. Part-owned by the very same
councils who are hiking the council tax which built up the airport,
they're now announcing these job losses. Many workers will wonder is
this preparation for further privatisation?
Lynn Worthington, Socialist Alternative candidate,
Baguley ward, Manchester (pictured left)
Airport bosses sent in some managers to try to break the strength of
the unions at the airport. They did that with lies and false promises.
Now, they've decided to remerge the different companies these managers
created!
They are not only getting rid of these managers, they are threatening
the jobs of many other workers. Is this a backdoor means to privatise
the airport?
Bosses made big job cuts after an unsuccessful strike by security and
other staff. This shows the need for a generalised cross-union campaign
to defeat the job cuts and fight off the threat of full privatisation.
Airport workers tell us that security has been left to young
job-seekers press-ganged into the very low pay and bad conditions which
the unions fought against. On poverty pay and horrific hours, how can
management expect casualised security staff to effectively prevent a
terrorist attack?
An agency cleaner told us that management now demand that cleaners
check the planes for bombs! Trade unions at the airport are holding a
series of meetings to discuss the attacks. A reliable source tells us
that management are intimidating staff, calling in workers to harangue
them. These are the same managers holding seminars on bullying at work!
One of the biggest employers in Greater Manchester is preparing the
ground for all-out war against its workforce. In the past, Manchester
Airport provided jobs for workers across Manchester. Through their local
authority positions, New Labour hold a massive stake in the airport, so
what have they got say about this latest crisis?
Socialist Party members will be arguing for a mass movement of
airport workers, the trade unions, and the wider community to fight all
job losses. The fight against unemployment is the fight for the right to
work on living wages.
Airport workers tell us that in the past the first in line for
better-then-average redundancy payments included current Labour
councillors. What an argument for a socialist alternative, and a
Socialist Alternative on the council!