Council elections 2006
Socialist Party councillors make a difference
THE SOCIALIST Party has six local councillors at present in England
and Wales. Three of these councillors have spoken to the socialist about
what they have been able to achieve and how they differ from councillors
from the pro-capitalist parties such as New Labour, the Tories and the
Liberal Democrats.

KAREN
McKAY (pictured left) has been Socialist Alternative councillor for St
Michael's ward in Coventry for seven years now.
Chris Flood and Ian Page are two of the three Socialist Alternative
candidates in May's election in Telegraph Hill ward in Lewisham, South
London. Chris has been a councillor since December 2003, Ian since 1995
when he was expelled from the Labour Party for opposing council cuts.
Could you give examples of some of the things you have achieved
(along with other Socialist Party councillors and the rest of the
party)?
Chris: We played a leading part in forcing Lewisham's Labour
administration to build a new school to replace one that was knocked
down – Labour had always argued against a new school. However, their
'solution' is not perfect as there are still differences on where the
school should be and we also have to watch what 'kind' of school it will
be… So this is an on-going campaign.
Importantly, we are the only councillors in the borough arguing
consistently against cuts and closures and privatisation. We are leading
an anti-housing sell-off campaign at present.
This next election is hugely important for what might be achieved in
a future Lewisham council. If we win three seats – and possibly end up
influencing the balance of power – it is possible that we would have a
greater effect on preventing cuts and closures. So we really need as
much help as possible with the canvassing for the elections!
Karen: With my fellow Socialist Party councillors in Coventry,
Dave Nellist and Rob Windsor, we have won many smaller battles for local
residents. Recently we campaigned against a major development
demolishing adapted homes for local disabled people. Now they'll be
replaced like for like in the same area, keeping them together. The
council deemed that 'not possible' before the campaigning.
There is also a regeneration of the local high street, kick-started
after campaign meetings and interviews on the media a few years ago. A
school merger is no longer going ahead.
On bigger battles, we may not win the war but we win concessions – so
a new PFI hospital is being built on the edge of the city, but the range
of health facilities potentially being offered for the old city-centre
site is wider, thanks to years of campaigning for city-centre
facilities.
The council has been attacking council workers' pay, using the single
status deal. Back in 1999 we made the difference to stop the original
worst deal being imposed and since then we have worked to support
council staff in the continuing campaign against this. In last year's
council budget, our amend-ment overturned cuts to social care and other
cuts.

Ian:
I campaigned with local residents to win back £13 million refurbishment
investment in a local estate which had been withdrawn by the council. We
stopped the sell-off of a local community building which is now used as
a community cafe and led a successful campaign to stop the council's
previous attempt to sell off council housing.
With Sam Dias, a previous Socialist Party councillor, we forced the
council to give low-paid workers without bank accounts additional
payment date options for the council tax. This stopped them being
penalised if they couldn't afford to pay at the start of the month!
And again with Sam Dias, we were the first political party to raise
in the council chamber the need for a new secondary school in the north
of the borough.
What sort of issues do you deal with from individuals?

Chris:
Mostly they have been around housing, social care, schools placement
issues, benefits, environmental issues etc. But we have also been
approached by members of the public outside our ward to take up
campaigns as they see the main parties as being useless!
This has included a neighbourhood in Deptford who opposed the selling
off of a section of their local park to a housing association and a
drugs charity that was being closed. We raised questions about the
charity being monitored inappropriately by the police!
Karen: There are many problems in housing – transfers, waiting
lists, repairs and homelessness. There are benefits problems. There are
complaints about rubbish, fly-tipping, dumping, street lights not
working, traffic issues, parking problems and safety issues.
You deal with immigration problems – visa delays etc. There are
complaints about poor service from the council, health, anywhere! You
get education issues – schools admissions or help with special needs or
transport. Then there are work-related problems – unfair dismissals, pay
problems – usually from people who are not in a union.
Ian: We get many housing, overcrowding and repair problems caused by
budget cuts, similarly with lack of school places. We try to support
victims of domestic violence, but once again, council support is often
slowed down or reduced due to lack of resources after cuts. We also
support individuals who have difficulties accessing services for mental
health issues.
What are the advantages of having Socialist Party councillors and
how do you differ from councillors from other parties?
Chris: I think our presence shows there is an alternative to
the three parties of big business. It also shows that socialist ideas
are still very popular. In that sense it's about raising and maintaining
the banner of socialism. It gives a profile to the Socialist Party and
helps to popularise the ideas of socialism as well.
And obviously we aren't funded by loans or big business! But we don?t
sell out or buckle under pressure like the other parties either.
The three major parties are all very pally with each other – this can
be seen by the way they all file into the mayor's parlour after full
council meetings for 'drinks!' We certainly don't – I'm proud to say I
don't know what the inside of the Mayor's parlour looks like!
Karen: Socialist councillors are free to represent people,
without party whips telling us to foist privatised options on them – the
only options for anything these days! We stand for the possibility of
alternatives to privatised services and for change.
Most councillors don't know what that feels like, as they have to toe
a party line which is not in people's best interests. They accept the
limitations that the government puts on local budgets and services,
while we argue to fight for more.
I live in the area I represent, I feel part of that community, while
some councillors live out in very affluent areas and can't really
understand the problems for people they represent.
Many councillors of all parties do care and work hard, but it is
variable – socialists have to work hard to win seats and so we do our
best when we win them!
Ian: We represent the interests of our constituents and not
the interests of a council that privatises services and implements cuts
to help the government save money for big business and war campaigns! We
will challenge private companies who don't deliver services. We are the
only councillors who regularly attend tenants', residents' and community
meetings.
What support do you and the Socialist Party get from your
constituents?
Chris: I think a large number of our constituents are glad to
have councillors that are different and approachable and not career
politicians. This is reflected in the support we get from within the
working-class community as well as in some middle-class households. We
always get a positive, supportive response from constituents when we are
at meetings in the ward.
Karen: Small numbers of people who care work in residents'
associations and other groups to make festivals and other events happen
and to improve the area. We work closely with them and without them
little would be achieved – we support each other and have good relations
with them.
Ian: Local people know who we are, they invite us to local
meetings when council officers 'accidentally' forget to! Many local
people will give out leaflets on housing campaigns and at elections.
What cuts and privatisation is your council planning and how are we
planning to fight them?
Chris: The council is continually 'revising' the budget as a
way to cut services. In nearly every full council meeting, we witness
approval being sought for a loss of housing provision of some sort, or
for attacks on jobs, or to hit funding of every kind of project.
Nothing is free from the threat of funding being reduced or cut –
apart occasionally from the Mayor's pet projects or the increase in the
number of top council officers earning over £100,000! So a lot of our
work is about bringing these things to the public's attention even if at
present we aren't numerically strong enough to prevent them.
Ian: The biggest cuts are due to the sell-off of council
housing. We will continue to challenge the Labour council to give
tenants the right to choose to stay with the council.
What will you be saying to voters on the doors and when campaigning
in the streets to convince them to vote for a Socialist candidate in the
local elections?
Chris: Just look at how discredited Labour are currently!
Lewisham Labour are straight out of this New Labour mould. In fact they
are ultra-Blairite. We are the only principled opposition party in the
council chamber.
In our ward, Telegraph Hill, the contest is literally a vote between
us and Labour. A vote for anyone else is a waste. Would-be Greens and
Liberals need to vote for us! But we will obviously be calling on our
core support as well.
We are different. We didn't rush to get ourselves signed up for a
councillors' pensions scheme (which is a nice earner), like the other
councillors. Within the same full council meeting, those councillors who
voted for cuts to a nursery scheme then voted to get the taxpayer to
fund themselves a pension!
This was highly insensitive as it came at a time when we were still
waiting for feedback about how the pension scheme for council employees
was performing. Understandably, the electorate will see this as other
councillors lining their pockets. Neither do we take political group
funds worth thousands of pounds like the other parties do.
Ian: All the other parties are the same. They all vote for
cuts in the council chamber. The Lib Dems, Conservatives and the Greens
in Lewisham have all supported Labour's policies on education and
housing and even voted against our motion to call on the government to
fund the budget deficit at Lewisham Hospital.
We are the only party to support investment in public services and we
believe we need a new mass party to fight for the interests of the vast
majority of people, not just to make fat cats fatter. A vote for us will
be a vote for accountable public services, against privatisation and for
a real alternative to Labour.
What difference do Socialist Party councillors make?
Chris: I think we show that ordinary people can be elected to
office and serve the interests of everyone, rather than big business.
Recently I led a revolt with the trade unions in a Health and Safety
Committee to throw out a plan to bring in compulsory testing of council
employees for drugs and alcohol. I argued that an adequate policy
already existed for dealing with these problems. Besides such measures
could be used to victimise individuals such as trade unionists.
I also tore into the proposal that the private sector would run such
a scheme! I said if it's going to be fair we would have to select all
council employees – including the chief executive and Mayor for example
after their nights out at publicly funded 'functions!'
Ian: We hold the Labour councillors and all the other
councillors to account and challenge their cosy system. We use our
positions to open the town hall's doors to local people so they can take
their community campaigns right into the council chamber if necessary.
People have been able to stop proposed cuts in our ward because we
will tell them about any threats as soon as we know and we will work
with alongside them. Labour councillors keep cuts quiet, misinform or
deny things until it's too late.
Is there anything else you would like to tell readers of the
socialist about being a Socialist Party councillor?
Karen: There's loads of other things we do as councillors. I'm
a governor at two local schools, which involves lots of meetings and
interviews. We have a local forum, community safety meetings etc.
We go to local events and endless consultation meetings about new
developments. There are residents' meetings and other focused resident
issues meetings. Then there's the licensing committee and its hearings
and the Scrutiny meetings that oversee council business.
In every area Socialist Party members have to weigh up how much work
being a councillor, and doing it properly, involves and how many people
we want to tie up in this detailed work. Sometimes we might be able to
achieve almost as much in campaigning terms to build the party profile
without this commitment on the council.
But obviously having councillors shows that the Socialist Party are
serious and can be trusted. And people deserve councillors who will work
and be involved and fight for a socialist alternative.
Chris: The first thing is we need more of us! It can be tough
and sometimes it's frustrating that you know you are holding a political
line that the public would definitely support – if they knew about it!
The media are very selective in what they report and tend to ignore
us which is scandalous – but it also shows why we need to produce our
own paper. But it can be very rewarding as well.
It's a real eye-opener becoming a councillor. When you see the other
parties behaving in the way they do – constantly against the interests
of ordinary working-class people – you really see why we need a new
worker's party and Socialist councillors. I look forward to the day that
we have councillors in every council.
Ian: What we need most of all are councillors and councils
that will ignore the cuts budgets imposed by central government and who
will work with the unions and the community in setting budgets based on
real needs. Those councillors and councils should aim to force the
government to give back the millions of pounds they have stolen from our
public services.
---
Coventry – re-elect Rob Windsor!
We
are focusing in Coventry on getting Rob Windsor (pictured left)
re-elected and regaining our third seat on the council, writes Lindsay
Currie, Coventry
Rob Windsor
Defending our public positions is important because of the voice it
can give to our party and our ideas.
We are also standing candidates in four other wards, building our
base of support across the city.
We work all year round on behalf of the residents of St Michaels
ward, which means that when we canvass local residents are already aware
of our party and our candidates and so feel confident to vote for us.
In the past year, we have supported disabled residents whose homes
are threatened with demolition. Socialist Party members took a petition
around the neighbours and managed to get almost 600 signatures. One of
the tenants, thanking us for our support, said he had no idea that so
many local residents backed their position.
We have also campaigned to retain green space and play facilities in
the ward and have continued to build support by getting local residents
involved in the campaigns.
Councillors Dave Nellist and Karen McKay have fought hard for the
interests of local residents when resisting planning applications for
large developments and have gained many improvements in terms of
parking, green space and accessibility.
Our involvement in campaigning on NHS cuts and privatisation has also
gained much support across the city. A recent public meeting attracted
over 70 people, including many health workers. While canvassing, we are
able to raise these issues and invite people to become more involved.
While we have a strong base of support for our ideas within St
Michaels ward we have to fight continually to maintain our position. The
population of the ward is not the same as when Dave Nellist first won
his seat in 1998. The original working-class population is disappearing,
partly due to the demolition of social housing which is being replaced
with expensive private developments, and there are a large number of
students, asylum seekers and migrant workers moving in and out of the
area.
However, when we speak to people who are new to the area and to the
ideas of the Socialist Party, we find they support our ideas and so find
it easier to support us than New Labour.
The canvassing we have done so far shows that we have a realistic
chance of winning the seat back to ensure that St Michaels ward once
again has three socialist councillors fighting and speaking up for
working-class residents.
---
Fight for jobs at Manchester Airport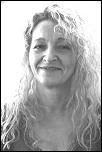 OVER
150 jobs are to go at Manchester Airport. Part-owned by the very same
councils who are hiking the council tax which built up the airport,
they're now announcing these job losses. Many workers will wonder is
this preparation for further privatisation?
Lynn Worthington, Socialist Alternative candidate,
Baguley ward, Manchester
Airport bosses sent in some managers to try to break the strength of
the unions at the airport. They did that with lies and false promises.
Now, they've decided to remerge the different companies these managers
created!
They are not only getting rid of these managers, they are threatening
the jobs of many other workers. Is this a backdoor means to privatise
the airport?
Bosses made big job cuts after an unsuccessful strike by security and
other staff. This shows the need for a generalised cross-union campaign
to defeat the job cuts and fight off the threat of full privatisation.
Airport workers tell us that security has been left to young
job-seekers press-ganged into the very low pay and bad conditions which
the unions fought against. On poverty pay and horrific hours, how can
management expect casualised security staff to effectively prevent a
terrorist attack?
An agency cleaner told us that management now demand that cleaners
check the planes for bombs! Trade unions at the airport are holding a
series of meetings to discuss the attacks. A reliable source tells us
that management are intimidating staff, calling in workers to harangue
them. These are the same managers holding seminars on bullying at work!
One of the biggest employers in Greater Manchester is preparing the
ground for all-out war against its workforce. In the past, Manchester
Airport provided jobs for workers across Manchester. Through their local
authority positions, New Labour hold a massive stake in the airport, so
what have they got say about this latest crisis?
Socialist Party members will be arguing for a mass movement of
airport workers, the trade unions, and the wider community to fight all
job losses. The fight against unemployment is the fight for the right to
work on living wages.
Airport workers tell us that in the past the first in line for
better-then-average redundancy payments included current Labour
councillors. What an argument for a socialist alternative, and a
Socialist Alternative on the council!
Solidarity messages can be sent to [email protected], c/o
Jennifer Walley
Sheffield bus boss jumps!
GARY NOLAN, the top boss of South Yorkshire First bus company has
resigned with immediate effect. Many people believe he jumped before he
was pushed.
Calvin Payne, Sheffield Socialist Party election
candidate
I was rung by Radio Sheffield last week to do an interview giving the
We Want Our Buses Back (WWOBB) campaign's reaction. "One down,
Brandon Jones to go!" I said. (Jones is the commercial manager and
Nolan's possible successor).
BBC Look North news bulletins linked Nolan's resignation from the
"troubled company" with film footage of our most recent
protest in Darnall a couple of weeks ago. There is no doubt that our
campaign has had an effect.
We have not only exposed First's blatant profiteering but also
pressured the Passenger Transport Executive (PTE) and city council to
make a stand and call for re-regulation. They have both passed motions
of no confidence in the First management. Nolan's is the first head to
roll!
It is suggested that Nolan might have been pushed because he was
"too soft" especially in dealing with the bus drivers' strike
two summers ago. And another strike looms!
But a makeover at the top of the company will make no difference if
they continue with their profit-driven agenda of cuts in services and
fare rises.
WWOBB will continue to campaign against First and call for the buses
to be brought back under public control and ownership.