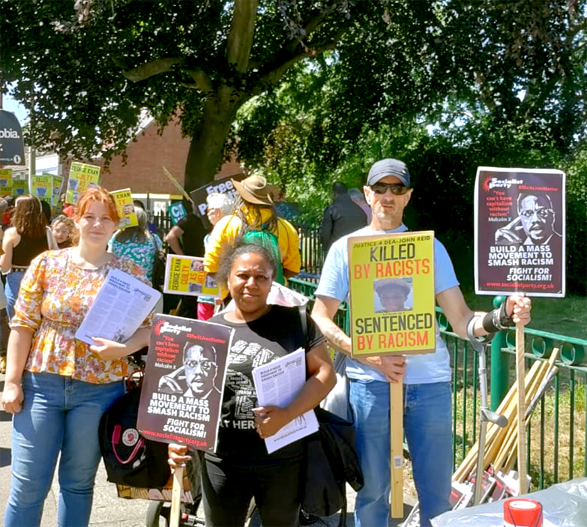 Cammilla Mngaza, Black Country Socialist Party
Socialist Party members from Birmingham and the Black Country marched with hundreds of others through Kingstanding in north Birmingham on 9 July, in solidarity with the campaign for justice for Dea-John Reid.
Dea-John Reid, a black 14-year-old was murdered in May 2021. He was chased by an all-white group – three teenagers and two adults – some in balaclavas, armed with a spanner and large kitchen knife.
Witnesses said the group moved like a pack, chasing down their prey. This was captured on CCTV.
One of the adults shouted racist abuse, telling the teenagers to kill Dea-John. Yet the jury only convicted the teenager with the knife – and of manslaughter, not murder. He was sentenced to six years.
Why were the accomplices cleared? Why were they not convicted of joint enterprise?
A 2016 survey showed over half of those convicted under joint enterprise were black, even though black people make up just 4% of the population in Britain. Dea-John's family has said the lack of diversity in the jury – 11 white and 1 Asian – does not reflect Birmingham.
The murder of Dea-John Reid was a racist hate crime. This is yet another racist gross miscarriage of justice.
Hate crime
The Crown Prosecution Service (CPS) says it takes hate crime extremely seriously. We beg to differ.
Under capitalism, justice will never prevail when it comes to race hate crime. The police, CPS and judiciary were built to suppress those who might challenge the capitalist system. The working class, especially black and brown people, have suffered the most.
We don't need reform. The system is broken.
"You can't have capitalism without racism" – Malcolm X.