The Socialist 16 January 2019
Tories, Tories, Tories - out, out, out!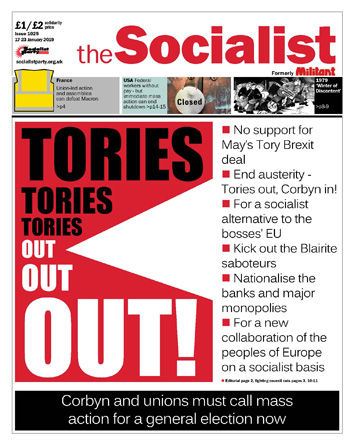 ---
May facing Brexit vote catastrophe
---
After Grenfell, thousands still in high-rise firetrap blocks
Universal Credit: robbing the working class
30% of English secondaries in deficit
---
A key task - strengthen Tamil Solidarity campaign
---
Glasgow: huge turnout to fight closure of Whitehill pool
Surrey: save our children's centres
Caerphilly: right-wing Islwyn Labour councillors fight to impose cuts
Nothing to declare? Dodgy councillors hide vested interests
North Tyneside: march to save our footbridge
---
The 1979 'Winter of Discontent'
---
USA: federal workers without pay - but immediate mass action can end shutdown
India: biggest general strike ever
France: union-led action and assemblies can defeat Macron
Mexico: police silence on horrific attack on CWI member
---
Unions must fight and demand nationalisation to save thousands of car industry jobs
Hundreds join Manc RMT picket line in solidarity after far-right attack
UCU: Vote Yes and Yes in the higher education pay and equality ballot
---
Sorry to Bother You: "Socialist film Botox that made me feel young again"
Brexit: The Uncivil War - an interesting but inaccurate portrayal of EU referendum
PO Box 1398, Enfield EN1 9GT
020 8988 8777