The Socialist 21 March 2018
Hands off free school meals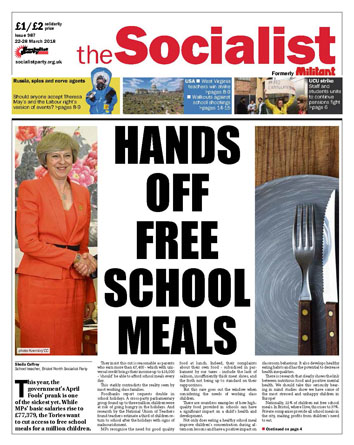 ---
Russia, spies and nerve agents
---
The Blairites are NHS privatisers - to save it means sacking them
Hated Blairite mayor ousted: now fight for a no-cuts Newham!
---
West Virginia teachers' strike victory
US school shootings: student walkouts challenge establishment
Brazil: Psol councillor Marielle Franco murdered
---
UCU strike: staff and students unite to continue pensions fight after magnificent 14 days of action
Hinkley workers win back unpaid wages after sit-in protest
Strikers and parents rally again in Newham against academies
Hull college workers ballot for action against mass redundancies
Unions condemn 'culture of bullying' at Merseyside hospital
---
Refugees march against racism and to demand rights
Ideas matter: help us fight to win with May Day greetings
Past fund-raising campaigns show dedication to the fight for socialism
Why I joined: 'The Socialist Party is at the forefront of defending Corbyn's anti-austerity leadership'
Hands Off HRI campaign granted judicial review
Over 1,000 on Newcastle NHS march
Refugee Rights to be launched in Manchester
---
Revolutionary physicist and champion of social causes
PO Box 1398, Enfield EN1 9GT
020 8988 8777

Link to this page: https://www.socialistparty.org.uk/issue/987/27068
Home | The Socialist 21 March 2018 | Join the Socialist Party
Subscribe | Donate | Audio | PDF | ebook
Cuts harm kids' health
Workers can beat NHS cuts and sell-offs
Tom Costello, Lancashire Socialist Party
A total of 96 hospitals and service providers have substandard safety in children's healthcare, according to February's CQC inspection.
The primary reason the report cites is an all-time low level of staffing, with 36,000 vital nurse positions remaining unfilled.
And the ongoing crisis for kids does not end there. In less than five years, the amount of child psychiatrists has fallen by 7% from 1,015 full-time positions to just 948.
Estimates suggest up to 50,000 children and young people will be losing out on vital mental health attention. Meanwhile cases of young people with anxiety, depression and eating disorders continue to skyrocket.
Last year's election manifesto from Jeremy Corbyn promised an extra £7 billion a year for the health service. This is a definite step in the right direction.
But any approach to saving our NHS will inevitably have to confront the defining problem: the interference of parasitic private companies in essential public services.
Far from the secure, publicly owned NHS we all want, our health service is being eaten away at by a band of exploitative profiteers backed by the Tories and Blairites.
Privatisation
This crisis is not just a case of underfunding. Underfunding itself is part of a backdoor scheme to dismantle and privatise our health service carried out by successive capitalist governments.
But there has been a radical upsurge in activity to defend our health service from this process, seen in the heroic efforts of workers and communities across the country. From the junior doctors' strikes in 2016, to last year's victories against closures in Leicester and Mansfield - where Socialist Party members played leading roles.
A confident, united and dedicated mass campaign could smash this onslaught. The trade union leaders must capitalise on working class anger and build for coordinated action to finish the job off.
---
In this issue
---
What we think

Russia, spies and nerve agents
---
Socialist Party news and analysis

Hands off free school meals!

The Blairites are NHS privatisers - to save it means sacking them

Cuts harm kids' health

Hated Blairite mayor ousted: now fight for a no-cuts Newham!

Them & us
---
International socialist news and analysis

West Virginia teachers' strike victory

US school shootings: student walkouts challenge establishment

Brazil: Psol councillor Marielle Franco murdered
---
Workplace news and analysis

UCU strike: staff and students unite to continue pensions fight after magnificent 14 days of action

Hinkley workers win back unpaid wages after sit-in protest

Strikers and parents rally again in Newham against academies

Hull college workers ballot for action against mass redundancies

Unions condemn 'culture of bullying' at Merseyside hospital

NSSN conference moves
---
Socialist Party reports and campaigns

Refugees march against racism and to demand rights

Ideas matter: help us fight to win with May Day greetings

Past fund-raising campaigns show dedication to the fight for socialism

Why I joined: 'The Socialist Party is at the forefront of defending Corbyn's anti-austerity leadership'

Hands Off HRI campaign granted judicial review

Over 1,000 on Newcastle NHS march

Refugee Rights to be launched in Manchester
---
Opinion

Revolutionary physicist and champion of social causes

The Socialist inbox
---
Home | The Socialist 21 March 2018 | Join the Socialist Party