---
Filter by importance | All results
---
24 March 2010

Message of support for striking BA workers from Socialist Party MEP Joe Higgins:
I am writing ahead of your scheduled strike to express my solidarity, as well as the solidarity of my party the Socialist Party and our sister party the Socialist Party of England and Wales, for your campaign to defend your pay and conditions in British Airways...
9 September 2009

No to bosses' agenda
TUC fringe meeting: Respect the Irish 'No' Vote - Reject the Lisbon Treaty
Anti-Lisbon Treaty campaigners in the Irish Republic's forthcoming referendum are angry that two big corporations - Ryanair and Intel - are spending as much as 1 million euros on promoting a 'yes' vote...
4 August 2009

Vestas gains support from Ireland's Socialist MEP
I wish to express my solidarity with your occupation and campaign to save Vestas. The disgusting attempts of Vestas to force you out through starvation, intimidation and injunctions demonstrate that you...
8 June 2009

Radio interview with Joe Higgins, successful Irish Socialist Party MEP in Dublin
17 May 2007

Irish election: An above average Joe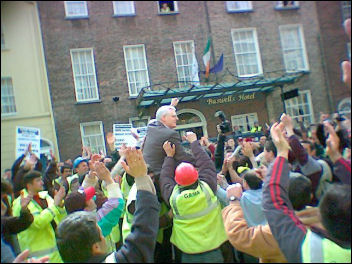 Joe Higgins and the victorious Gama workers
SOUTHERN IRELAND'S general election for the Dail, Ireland's Parliament, on 24 May gives working-class people a chance to say what they think of the 'Celtic Tiger' economic boom that has made huge profits for big business ...
4 September 2004

Joe Higgins: Speaking Tour Of Australia
JOE HIGGINS, Socialist Party (SP) member of the Dail (Ireland's Parliament) and one of the SP members recently jailed for defying the "bin tax" levy on Dublin householders, has spoken to thousands of workers in a very successful visit to Australia...
4 October 2003

Joe Higgins and Clare Daly - jailed over the bin tax
DUBLIN WEST Socialist Party TD (MP), Joe Higgins and Dublin North Socialist Party councillor, Clare Daly have been sentenced to a month in prison and are currently serving their sentence in Dublin's Mountjoy prison, writes By Peter Hadden.
27 September 2003

Anti-bin tax protesters Jailed for defending the poor
SOCIALIST PARTY TD (MP) Joe Higgins and councillor Clare Daly have been sent to Mountjoy Prison, Dublin for one month. Their 'crime' is defending the poor in the fight against the bin tax...




LATEST POSTS

WHAT'S ON

CONTACT US
Locate your nearest Socialist Party branch Text your name and postcode to 07761 818 206
Regional Socialist Party organisers:
Eastern: 0798 202 1969
East Mids: 0773 797 8057
London: 020 8988 8786
North East: 0784 114 4890
North West 07954 376 096
South East: 020 8988 8777
South West: 07759 796 478
Southern: 07833 681910
Wales: 07935 391 947
West Mids: 02476 555 620
Yorkshire: 0114 264 6551

ABOUT US

ARCHIVE
---

2018

2017

2016

2015

2014

2013

2012

2011

2010

2009

2008

2007

2006

2005

2004

2003

2002

2001

2000

1999