---
Filter by importance | All results
---
18 July 2016

Brookes workers continue the fight against 2Sisters
Production slowed to a virtual standstill on the second day of the second strike
2 June 2016

RF Brookes walk out over pay cut
Over 80 workers, members of the BFAWU bakers' union, rallied at the picket line at RJ Brookes
20 August 2014

Capitalism means war: Join the Socialists!
Nato, the war-machine of Western capitalism, will descend on Newport in September
29 July 2014

Passport Office strikes for jobs and decent pay
There was a good mood on the picket line at Newport passport office as workers struck to demand additional staff and improved pay
9 October 2013

Newport council destroys workers' mural
Over 500 angry people protested on 5 October against Newport Labour council and Queensberry property developers' destruction of the town's Chartist mural.

25 May 2011

Workplace news in brief
Newport Passport Office: On 23 May Tory immigration minister Damian Green announced the closure of Newport Passport Office as a processing centre, writes Dave Reid.
23 May 2011

Newport Passport Office - campaign saves 150 jobs but fight goes on
The Tory immigration minister has announced the closure of Newport Passport Office as a processing centre but in a big concession to the massive campaign led by the PCS, retained half of the threatened jobs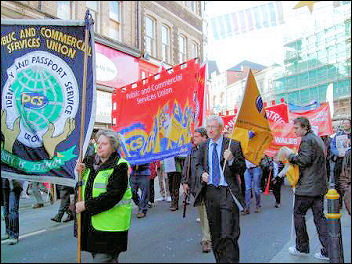 Newport Demo to save the Passport Office: John McInally, Vice president, Public and Commercial Services union, with the IPS group banner , photo Socialist Party Wales
20 October 2010

Huge demo against passport office closure in Newport
Newport fights the cuts: Everyone in Newport has been incensed by the decision to close the Passport Office here. In just a few days the whole community mobilised and a good 1,000 people came on the noisy demonstration around...
13 November 2009

Anti-fascists tactics - What happened in Newport?
ON 24 October, Newport Communities Against Racism (NCAR) organised a rally of 600 local people against the far-right English/Welsh Defence League (E/WDL) that shut the League out of Newport...
28 October 2009

Newport Rising 1839
Feature: ON 4 November 1839, 170 years ago, the 'Chartist Rising' in Newport, south Wales, ended in bloodshed. DAVE REID explains the background to one of the first workers' insurrections in history.




LATEST POSTS

WHAT'S ON

CONTACT US
Locate your nearest Socialist Party branch Text your name and postcode to 07761 818 206
Regional Socialist Party organisers:
Eastern: 079 8202 1969
East Mids: 077 3797 8057
London: 020 8988 8786
North East: 078 4114 4890
North West 079 5437 6096
South West: 077 5979 6478
Southern: 078 3368 1910
Wales: 079 3539 1947
West Mids: 024 7655 5620
Yorkshire: 077 0671 0041

ABOUT US

ARCHIVE
---

2019

2018

2017

2016

2015

2014

2013

2012

2011

2010

2009

2008

2007

2006

2005

2004

2003

2002

2001

2000

1999