PDF
|
Audio
|
2021 Back issues
---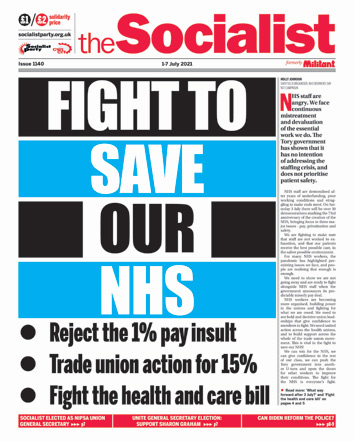 Click image for PDF

NHS after 3 July protests Trade unions must organise serious action
Editorial of the Socialist issue 1140
The NHS protests around the country on 3 July should be the start of building a mass campaign for decent pay and to save the NHS. Well over a million people work in the NHS. Organised in trade unions, backed up by community campaigns, these workers have tremendous potential power.

Fight to save our NHS

Royal London Hospital

Fight the health and care bill

Keep private hands off NHS patient data

We don't want a USA-style healthcare system

Post-pandemic railway battles loom

East Mids train guards strike

Stop the Channel 4 sell-off!

Hopeless Hancock replaced

Millionaires multiply during pandemic

Dalian Atkinson – police found guilty of killing ex-footballer

Can Biden reform the police?

Socialist candidate wins NIPSA general secretary election

Gateshead: Sacked electricians reinstated

Support Gary Clark for CWU executive

Support Sharon Graham for Unite general secretary
The Socialist Party is supporting Sharon Graham in the Unite general secretary election. Ballot papers are posted out on 5 July.

End bullying and victimisation at Oaks Park school

Unite members step up action against bullying Mungo's managers

Sandwell Leisure workers: No to 'fire and rehire'
On 25 June, Unison union members working for Sandwell Leisure Trust (SLT), West Midlands, organised a strike at a number of leisure centres across the borough

The Israeli working class
The Socialist Party has consistently argued that the working class is the only force which can solve the enormous social and economic capitalist crises in the Middle East, and end the occupation and repression of the Palestinian people

German Greens: The image and reality

Protesters halt Nadia's eviction

Brighton: Moulsecoomb strike against academisation
Deaf to the overwhelming opposition of parents, students, staff and their unions, the local community and council, Lee Mason-Ellis and the Pioneer Academy chain are intent on taking over Moulsecoomb Primary School in Brighton in September

York residents demand land for local community needs

Young Socialists march in London

Pride is a campaign, not a business opportunity

TV Review: GB News

Readers' comments