The Socialist 25 March 2015
A voice for the 99%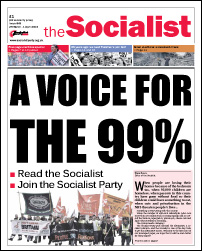 ---
Tory candidate attempted to divide community
---
Israel-Palestine: Likud election victory
Ireland: Mass protest against austerity charges
---
Inspired by Bob Crow to stand for TUSC
Fighting against the cuts for the most vulnerable
Attempt to exclude TUSC from Leicester hustings
Socialist Party election appeal 2015
---
Anti-blacklisting leader arrested at Hilton protest
Lewisham: Marching against academies
Refuse workers strike against wages theft
Unite conference hears how zero-hours were beaten
---
Fighting racism, austerity and capitalism
Saving libraries: it's a page-turner!
---
TV review: Suffragettes Forever!
---
How we defeated Thatcher's poll tax
PO Box 24697, London, E11 1YD
020 8988 8777
editors@socialistparty.org.uk

In this issue:
The Socialist 25 March 2015, A voice for the 99%

A voice for the 99%
Read the Socialist - Join the Socialist Party: When people are losing their homes because of the bedroom tax, when 93,000 children are homeless, when parents in this country have gone without food so their children could have something to eat, when cuts and privatisation in the NHS threaten people's lives..

Defend the NHS

Osborne's total eclipse

Tory candidate attempted to divide community

Them & Us

Israel-Palestine: Likud election victory
New coalition will face chain of unresolved crises and bitter struggles: Likud, faced with a background of growing discontent and revulsion against its rule, strove to mobilise the most reactionary elements in society, particularly the far-right settlers' movement, to win elections.

Ireland: Mass protest against austerity charges

Reject the austerity lies
Join the socialist fightback! The Socialist Party's central message in the 2015 elections is this: austerity is not necessary and there is an alternative - a socialist alternative

Inspired by Bob Crow to stand for TUSC

Fighting against the cuts for the most vulnerable

Attempt to exclude TUSC from Leicester hustings

Socialist Party election appeal 2015

Anti-blacklisting leader arrested at Hilton protest
Blacklist Support Group secretary Dave Smith was arrested on the peaceful protest of 40 construction workers and their supporters outside the Construction News Awards in the Hilton Hotel in central London's Park Lane

Lewisham: Marching against academies

Refuse workers strike against wages theft

Unite conference hears how zero-hours were beaten

Fighting racism, austerity and capitalism
Black and Asian people are at the sharp end of austerity. There has been a 50% increase in long-term unemployment for young black people since 2010

Saving libraries: it's a page-turner!

TV review: Suffragettes Forever!
Katrine Williams of Cardiff Socialist Party reviews BBC TV's 'Suffragettes Forever! The Story of Women and Power'

How we defeated Thatcher's poll tax
25 years since the poll tax battle: The battle against the so-called 'poll tax' was one of the biggest movements of working people against a modern British government. Millions refused to pay; many millions more simply could not afford to pay