The Socialist 4 December 2019
Vote to... End austerity. Save the NHS. Tories out, Corbyn in.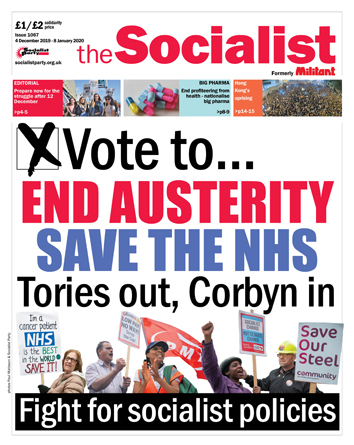 ---
Prepare now for the struggles after 12 December
---
Unite against terrorism, racism, war and austerity
Keep up to date with our election coverage
---
End profiteering from health - nationalise big pharma
---
SWR dispute: It's a strike to ensure the safety of the travelling public
Solid support for guards on West Midlands Trains
University and College Union strikes: more determined than ever
Royal Mail court ruling - national reps meeting and solidarity action essential
Jared Wood overwhelmingly elected to RMT executive
PCS union general secretary election
Northern Ireland: Health workers take action over understaffing and pay equality
---
Fight for your future - join the socialists
Climate strikes: Students and trade unionists protest together
Why I joined: "Proud to be a socialist"
Socialist Students conference: Students and workers united in struggle
Climate change election debate - Corbyn offers best green solutions but needs to go further
Carlisle election meeting: Education - time to make the mega-rich and corporations pay
---
South African Airways workers win wage increase after strike action
---
The Great Big Socialist Party Quiz 2019
PO Box 1398, Enfield EN1 9GT
020 8988 8777
editors@socialistparty.org.uk