The Socialist 27 July 2016
No compromise with Labour right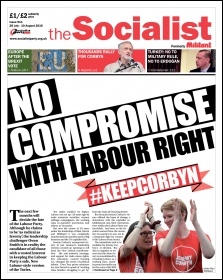 ---
No compromise with Labour right wing
Anger against Blairite 'traitors' sweeps Portsmouth Momentum
Corbyn's 'rock-star welcome' in North West
---
End Victorian working conditions
Tories plan further fee hikes for uni students
What we saw: UB40 backs Corbyn
---
Europe and the workers' movement after Brexit
Why the Socialist Party opposed the EU
---
Turkey: no to military rule, no to Erdoğan's rule
---
Barcelona 1936: the people's Olympics
---
Fawley refinery strike against 'race to bottom'
Unite policy conference backs reselection of Labour MPs
Brookes workers continue the fight against 2Sisters
---
Black Lives Matter demo shakes Leeds
Sheffield solidarity with Black Lives Matter
---
Pent Valley school closure judicial review blocked
An explosion in sales of the Socialist
PO Box 24697, London, E11 1YD
020 8988 8777
editors@socialistparty.org.uk

In this issue:
The Socialist 27 July 2016, No compromise with Labour right

No compromise with Labour right wing
The next few months will decide the fate of the Labour Party. Although he claims to be 'as radical as Jeremy', leadership challenger Owen Smith is in reality the candidate of those with a vested interest in keeping Labour as a New Labour-style version of the Tories

Mood to defeat the Blairites

Anger against Blairite 'traitors' sweeps Portsmouth Momentum

'Defend Corbyn' rally

Corbyn's 'rock-star welcome' in North West

End Victorian working conditions
Trade union fightback needed: The report into Sports Direct's working practices by a House of Commons select committee shows the much acclaimed protection of workers' employment rights by the EU is worthless without the traditional workers' organisations - the trade unions - being strong enough to enforce legislation.

Tories plan further fee hikes for uni students

Them & Us

What we saw: UB40 backs Corbyn

Europe and the workers' movement after Brexit
Europe - Britain in particular - is now at the forefront of political developments. Because of the 'weight' of British capitalism, Brexit represents a giant boulder dropped into a lake. There will be an immediate ripple effect but the repercussions will be felt for months and years.

Why the Socialist Party opposed the EU

Turkey: no to military rule, no to Erdoğan's rule
The recent failed military coup d'état in Turkey has been followed by a massive purge of the state machinery and assault on democratic rights by right-wing president Recep Erdoğan. By arresting thousands of people, sacking thousands of state employees, imposing a three month 'state of emergency' and mobilising his AKP members, Erdoğan is ruthlessly accelerating his drive towards an authoritarian regime. Workers' and left organisations must mobilise to resist these draconian moves and fight for democratic rights.

Barcelona 1936: the people's Olympics
For a brief moment 80 years ago, in a hint of what Spain as a whole would become, Barcelona became the focus of opposition to fascism. In July 1936, 6,000 athletes arrived in the city, greeted by banners and bunting welcoming them. They were no ordinary athletes; the socialist hurdlers and the anarchist shot putters were there for the Olimpiada Popular, the People's Olympiad.

Fawley refinery strike against 'race to bottom'
On 14 July workers from contractors NICO at the Fawley refinery, members of Unite, took strike action against the super-exploitation of migrant workers from Italy and Bulgaria, being paid £48 for a 10 hour shift, instead of £125.

Unite policy conference backs reselection of Labour MPs

Brookes workers continue the fight against 2Sisters

Workplace news in brief

Black Lives Matter demo shakes Leeds
The Black Lives Matter movement shook Leeds on Wednesday 14th July when over 1,000 people gathered in the city centre before marching through the central shopping district.

Sheffield solidarity with Black Lives Matter

Huntingdon anti-racist rally

Pent Valley school closure judicial review blocked
The campaign to save Pent Valley School in Kent has had its application for a Judicial Review refused.

Reverse Derby council cuts

An explosion in sales of the Socialist

Sharrow success