The Socialist 29 October 2014
Millions robbed by greedy bosses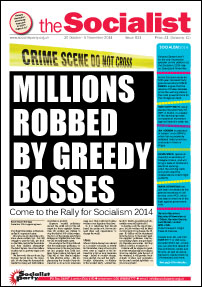 ---
Millions robbed by greedy bosses
Capitalism - 'the new mediocre'
Record numbers of workers suffering poverty pay
---
Lessons from history: 1917 Revolution in Russia
Australia: The sacking of a government
---
Building a political alternative in Seattle
---
Support FBU pension strikes: Save our fire service
St Mungo's Broadway workers discuss next action
Sheffield recycling workers to start indefinite action
Ritzy workers threatened with redundancy
Fighting for better pay for workers
Wales colleges: Vote 'yes' in pay strike consultation
NASUWT members strike at Swinton High School
---
Leicester holds historic People's Budget talks
Southwark Labour demolishes homes
---
Film review: On the streets of Belfast in 1971
---
PO Box 24697, London, E11 1YD
020 8988 8777
editors@socialistparty.org.uk

In this issue:
The Socialist 29 October 2014, Millions robbed by greedy bosses

Millions robbed by greedy bosses
Come to the Rally for Socialism 2014: Stop thief! Five million robbed every day! It's organised crime

Capitalism - 'the new mediocre'

Record numbers of workers suffering poverty pay

NHS: More cuts planned

Our health is not a game!

Scottish Labour in crisis

Them & Us

Lessons from history: 1917 Revolution in Russia
The October revolution (7-8 November in the modern calendar) of 1917 in Russia was the greatest event in human history

Australia: The sacking of a government

Building a political alternative in Seattle
"Poll shows Sawant polarising, but with impressive favourable rating" is the title under which a confirmation of the politics of Kshama Sawant and her organisation, Socialist Alternative (co-thinkers of the Socialist Party in the US), was published

Support FBU pension strikes: Save our fire service
Firefighters in the FBU union are due to strike for four days over pension cuts. Salford FBU rep Paul Davies spoke to the Socialist about the action

St Mungo's Broadway workers discuss next action

Sheffield recycling workers to start indefinite action

Ritzy workers threatened with redundancy

Fighting for better pay for workers

Wales colleges: Vote 'yes' in pay strike consultation

NASUWT members strike at Swinton High School

Workplace news in brief

Leicester holds historic People's Budget talks
On 25 October around 60 people gathered to participate in Leicester's first ever People's Budget conference

Southwark Labour demolishes homes

Donate for socialism!
Readers' comments and reviews

Film review: On the streets of Belfast in 1971
This film, on general release, shows what it was like for a newly sent over British soldier during a few days in Belfast in 1971

Red Dylan Thomas

Bill Webster 1941-2014
William (Bill) Webster died in August after a long illness, aged 73

Ronnie Sookhdeo 1946-2014