The Socialist 9 August 2017
Striking back against poverty pay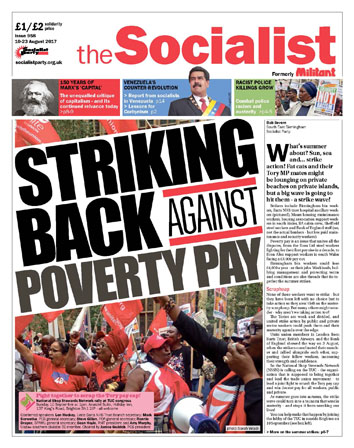 ---
Venezuela shows battle Corbyn would face
---
Striking back against poverty pay
Rashan Charles death: End police racism and austerity
Coventry: march following racist police killing
Government's tribunal fees defeat
40% of England's psychiatric wards are 'unsafe'
---
Marx's Capital at 150: an unequalled analysis
---
Angry Birmingham bin workers enter fifth week of strike action
Barts strike: Keep up the pressure on Serco and the trust!
Steel workers at Rom Ltd strike for a pay rise
Coordinated action needed to break pay restraint
End poverty pay for sleep-in care workers
RMT condemns Welsh government rail privatisation
---
Young, angry and fighting back
Young Socialists off to a flying start in Cardiff
Campaign fights closure of Chatsworth rehab ward
Support for Socialist Party campaigns at biggest ever Leeds Pride
Housing safety campaign kicks off in Coventry
Far-right thrown out of Newcastle
---
Venezuela: Capitalist offensive sharpens after assembly elections
Workers' struggles in Peru: eyewitness report
---
How much reserves have councils got?
---
Global finance: Are those storm clouds ahead?
---
Crunchy guitar and poignant dialogue in alt-rock homage to south Wales miners
PO Box 24697, London, E11 1YD
020 8988 8777
editors@socialistparty.org.uk

Crunchy guitar and poignant dialogue in alt-rock homage to south Wales miners
image is at http://www.socialistparty.org.uk/pic/22/22341.jpg