The Socialist 15 July 2015
Living wage lie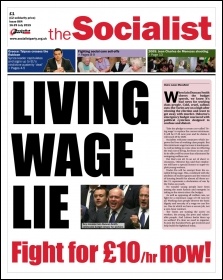 ---
Fightback essential following Osborne's hatchet budget
Labour's austerity 'me too-ism' continues
---
EU revenge against Greek workers
Greece: Tsipras crosses the Rubicon
The Marikana report - a whitewash
---
2005: Jean Charles de Menezes shooting
---
Labour council axes union facility time
Cardiff teachers strike against 'death wish' workload
Transport workers shut down tube and railway
Biggest union clings to Labour, but considers law-busting strikes
---
---
Orphan Black - refreshing take on sci-fi story
---
Angry coordinated protests and solidarity
Osborne attacks youth... we take to the streets!
Record attendance at Durham Miners' Gala
200 march against closure of Longton Cottage Hospital
Bromley Unite members stop council tax bailiffs
Road accident highlights need to save school crossings
PO Box 24697, London, E11 1YD
020 8988 8777
editors@socialistparty.org.uk

In this issue:
The Socialist 15 July 2015, Living wage lie

Living wage lie
When Iain Duncan Smith cheers the budget speech, we know it's bad news for working class people. Their headline promise of a new 'living wage' is no such thing.

Fightback essential following Osborne's hatchet budget

Labour's austerity 'me too-ism' continues

Them & Us

EU revenge against Greek workers
In effect, Greece will come under the neo-colonial rule of the EU and Germany, its strongest economy. EU officials will dictate policy and expect the Greek parliament to rubber stamp draconian austerity measures.

Greece: Tsipras crosses the Rubicon

The Marikana report - a whitewash

International news in brief

2005: Jean Charles de Menezes shooting
On 22 July 2005 an innocent man was brutally shot to death by police at Stockwell tube station in south London. Ten years later and his family, and the Socialist Party, are still fighting for justice.

Labour council axes union facility time
Coventry council, a Labour-controlled authority, is planning draconian cuts to facility time - union reps' time for trade union duties.

Cardiff teachers strike against 'death wish' workload

Transport workers shut down tube and railway

Biggest union clings to Labour, but considers law-busting strikes

Workplace news in brief

Reverse social care sell-offs
As people live longer, more and more are likely to need care services when they get older, writes Jean Thorpe, Nottingham Socialist Party.

Orphan Black - refreshing take on sci-fi story
TV review: Orphan Black is brilliantly written television. It's a refreshing, intelligent, feminist take on the sci-fi genre.

Angry coordinated protests and solidarity
Four disabled activists were arrested on budget day as protesters were manhandled by police

Osborne attacks youth... we take to the streets!

Record attendance at Durham Miners' Gala

200 march against closure of Longton Cottage Hospital

Bromley Unite members stop council tax bailiffs

Road accident highlights need to save school crossings