Reports and Campaigns

About the Socialist Party

Anti-capitalism

Anti-privatisation

Anti-war

Election campaigns

Environment

Health

Socialist women

Workplace

Youth and Students
---
Election campaigns keywords:
Trade Unionist and Socialist Coalition (564)
---
Reports and campaigns:
Stop the slaughter of Tamils (7)
Workplace and TU campaigns (19407)
Related websites
Trade Unionist and Socialist Coalition
National Shop Stewards Network
---
2 May 2008
Clear win for Socialist Alternative candidate Dave Nellist in Coventry council election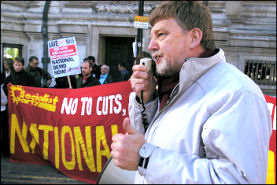 Coventry Councillor Dave Nellist on NHS demonstration 1st November 2006, photo Paul Mattsson
2008 Election results for St Michael's ward

| | | | |
| --- | --- | --- | --- |
| Candidate's surname | Other names | Party | Results |
| Ali | Motasem | Labour |  1336 |
| Cox | Charles Stephen | Conservative |  399 |
| Nellist | Dave | Socialist Alternative |  1643 |
Socialist Party councillor Dave Nellist has been re-elected with a clear 300 vote lead over Labour.
'The worst result for Labour ever' is how the newspapers are describing last nights local election results. At the time of writing not all results have been announced but it is clear that New Labour have been punished at the polls, and that the Tory vote has increased significantly.
St Michaels ward, Coventry
Against this background initial reports suggest that smaller parties have not had many major successes. St Michaels ward, Coventry, however, was one exception to the trend. Dave Nellist faced a major campaign by the Labour Party to try and unseat him but despite this he increased his vote, winning 1643 to 1336. As the Socialist Party election leaflets explained, "Dave exposes their planned cuts so Labour are desperate to get rid of him".
St Michaels ward has many new residents who don't know of the Socialist Party's record in the area. Out of desperation New Labour tried to deceive them, stating that, "only Labour can beat the Tories in St Michaels" 'ignoring' the fact that two out of three councillors in the area represent the Socialist Party. New Labour also exerted huge pressure on Bangladeshi and Muslim voters to support the Bangladeshi Labour candidate.
However, none of their tactics worked. Working class voters in St Michaels, from all backgrounds, went out to vote for Dave Nellist. Many Bangladeshi voters were furious about New Labour's tactics, saying 'we don't agree with voting on the basis of religion' and 'Dave Nellist is principled, he really opposed the war in Iraq, not like Labour' and 'we always support the socialists'. In the coming months the Socialist Party will be capitalising on our success - not least talking to the more than 40 people we met during the campaign who said they were interested in joining our party.
---




LATEST POSTS

WHAT'S ON

17 May Oxfordshire & Aylesbury Socialist Party: The role of the state

18 May Bristol North Socialist Party: Liverpool - history of socialist struggle

19 May North London Socialist Party: Stop the Gaza slaughter - How can the conflict be ended?

CONTACT US
Locate your nearest Socialist Party branch Text your name and postcode to 07761 818 206
Regional Socialist Party organisers:
Eastern: 079 8202 1969
East Mids: 077 3797 8057
London: 075 4018 9052
North East: 078 4114 4890
North West 079 5437 6096
South West: 077 5979 6478
Southern: 078 3368 1910
Wales: 079 3539 1947
West Mids: 024 7655 5620
Yorkshire: 078 0983 9793

ABOUT US

ARCHIVE
---

2020

2019

2018

2017

2016

2015

2014

2013

2012

2011

2010

2009

2008

2007

2006

2005

2004

2003

2002

2001

2000

1999