Socialist Party manifesto 2010
---
Socialist Party manifesto 2010
---
Putting the millions before the billionaires!
Socialist policies
New Labour has allowed a massive increase in inequality. Conservative and LibDem policies show that they would have done the same if they were in office.
What would socialists do differently?
---
Socialist Party manifesto 2010
Work and Income
New Labour's record
Maintained a poverty level minimum wage which continues to discriminate against young workers.
Watched the gender pay gap increase so that women are earning on average 22.6% less than men.
What the Socialist Party calls for: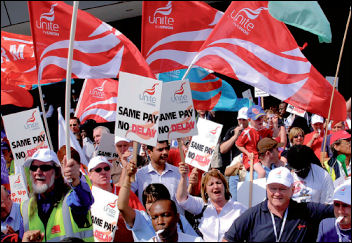 Unite and RMT trade unions protest over pay
Trade union struggle to increase the minimum wage to £8 an hour without exemptions as an immediate step towards £10 an hour. For an annual increase in the minimum wage linked to average earnings.
All workers including part-timers, temps, casual and migrant workers to have trade union rates of pay, employment protection, and sickness and holiday rights from day one of employment. Enforce equal pay.
Unemployment
New Labour's record:
Allowed unemployment to rise to nearly 2.5 million, officially 7.8%, but in reality much higher, particularly among the young.
Claim to be tackling unemployment while making plans to sack 100,000+ of the government's own employees.
What the Socialist Party calls for:
No job cuts. Full employment through a massive programme of socially useful public works with a living wage of at least £8 an hour and a maximum 35-hour week.
No cheap labour apprenticeships and unpaid internships. Guarantee at least the minimum wage and a job at the end.
Pensions and benefits
New Labour's record:
Launched a vicious propaganda campaign against the right of public sector employees to a decent pension after allowing private sector bosses to take pension contribution holidays and close virtually all final-salary pension schemes.
Kept those kicked out of work in poverty with a measly £60 a week, even less for the under 25s.
What the Socialist Party calls for:
An immediate 50% increase in the state retirement pension, as a step towards a living pension. Reinstate the link with earnings now.
Reject 'welfare to work'. For the right to decent benefits without compulsion or means testing.
Public services
New Labour's record
Spent £63 billion on PFI building contracts in the NHS, more than five times the value of the assets built.
Introduced university tuition fees and then announced more than half a billion pounds worth of cuts to the higher education budget - pay more, for less!
What the Socialist Party calls for:
A socialist NHS to provide for everyone's health needs, free at the point of use, in full public ownership and under democratic control.
Free, publicly run, good quality education available at any age. Abolish tuition fees and introduce a living grant.
Housing
New Labour's record:
Allowed house repossessions to reach a 14-year high, with 46,000 homes repossessed last year.
Allowed the worst housing crisis since World War Two to develop with next to no council homes built while five million people wait for social housing.
What the Socialist Party calls for:
No repossessions. Nationalised banks should offer cheap loans and mortgages for housing.
Keep council housing publicly owned. For a massive building programme of publicly owned housing to provide good housing with low rents.
Infrastructure
New Labour's record:
Continued to subsidise private companies on the railways by nearly £5 billion last year while trying to wreck Royal Mail in the same way, through privatisation.
Allowed energy corporate profits to soar. Gas and electric companies made profit of £105 per customer on average last year.
What the Socialist Party calls for:
A democratically planned, low fare, publicly owned transport system. Renationalise the railways and the buses.
End fuel poverty. Cut fuel bills immediately. Take the gas and electric companies into public ownership.
Democracy and sleaze
New Labour's record:
Whatever they like! Whether it is going to war or privatising public services, the government has ignored the views of those who elected them.
Stuck their noses in the trough. MPs from all three establishment parties have been claiming dodgy expenses on top of their generous £64,766 per year salaries.
What the Socialist Party calls for:
No MP to receive more than the average wage of a worker, to be re-elected every two years, to be accountable and subject to recall and to have their expenses open to the scrutiny of their constituents.
Abolish the House of Lords.
Introduce a democratic form of proportional representation.
The banks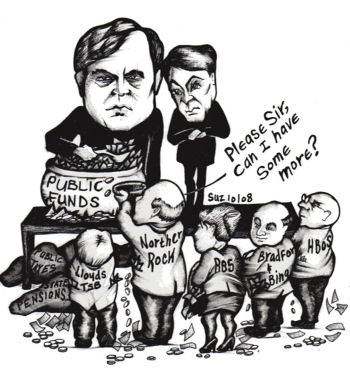 Oliver Twist banks - Please sir, can I have some more?, photo www.squashdonkey.co.uk
New Labour's record:
Continued the Tories' policies of deregulating the City - allowing the banks and finance companies to do whatever they like.
When this resulted in a collapse of the banking system, taxpayers' money was used to underwrite the banks to the tune of £1.2 trillion.
Allowed most of the 'banksters' to remain in charge and to continue claiming huge salaries.
What the Socialist Party calls for:
Nationalise all the banks on the basis of democratic public ownership. Compensation to shareholders only on the basis of proven need.
End city fat cats' bonuses, golden parachutes, and gold-plated pensions.
For a socialist government to exercise a monopoly of foreign trade, as a means of controlling all imports and exports including capital movements. No 'flight of capital'.
Reject the diktats of the ratings agencies, the European Central Bank and other unaccountable and unelected international finance bodies. For international workers' solidarity and economic planning across borders.
The economy
New Labour's record:
Doing the bidding of the giant corporations, banks and finance companies.
Like the Tories, overseeing the destruction of manufacturing industry, so that it now makes up just 13% of Britain's GDP.
Let companies - such as Bosch, Vestas, Visteon, Woolworths and many more - throw their workforces on the scrap heap.
What the Socialist Party calls for:
Open the books of the major companies that dominate the economy; let popular committees of workers, trade unionists and consumer groups see where the profits have gone.
For a socialist government to take into public ownership the top 150 companies that dominate the British economy, to be run under democratic working class control and management. Compensation to shareholders only on the basis of proven need.
A democratic socialist plan of production based on the interests of the overwhelming majority of people and in a way that safeguards the environment.
---
---