Edinburgh
---
Filter by importance | All results
---
11 August 2014

East Coast Mainline cleaners strike for decent pay
Low paid workers employed by ISS struck on Friday 8 August for 24 hours, with a 48-hour strike to follow
23 September 2013

Scotland: 20,000 march for a Yes vote in 2014
Over 20,000 supporters of Scottish independence marched through Edinburgh on 21st September. This significant mobilisation was double the attendance at the same Yes Scotland demonstration in September
27 September 2012

Thousands march for an independent Scotland
Over 10,000 people took part in the March and Rally for Scottish Independence in Edinburgh on the 22 September, writes For full report, see:.
7 September 2011

£36,000 for a degree
Edinburgh University is the third university in Scotland to announce how much it will charge students from outside Scotland (Scottish students will continue to not pay fees) and has made itself the most expensive place in the UK to get a degree...
18 August 2011

Nothing Left about the Scottish National Party
Working class communities in Scotland will pay the price of the SNP's savage austerity measures - while SNP ministers are taking huge cash windfalls
25 October 2010

20,000 march against government savagery in Edinburgh
There was an emphatic response to the savagery of the Con-Dem spending cuts on Saturday in Edinburgh...
25 August 2010

Privatisation and cuts in Edinburgh
Edinburgh Council is set to continue its attempt to sell off vital and key services to private contractors...
17 May 2007

Protest against the G8 Rostock 2007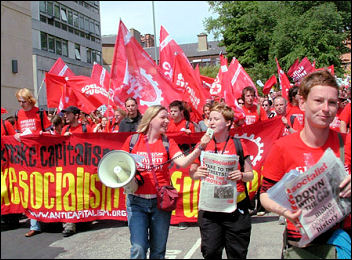 ISR demonstrating at the G8 in Edinburgh 2005
One hypocrite will now replace another! Blair has been recounting his so-called achievements and includes among them his so-called triumph at the July...
29 March 2007

Edinburgh postal workers fight back
SCOTLAND NO 2 CWU branch officials have just negotiated a return to work of over 1,000 postal workers in the Edinburgh Mail centre, after a management climb-down....